Lac
Music by Pyotr Ilyich Tchaikovsky, choreography by Jean-Christophe Maillot
Les Ballets de Monte Carlo
London Coliseum
–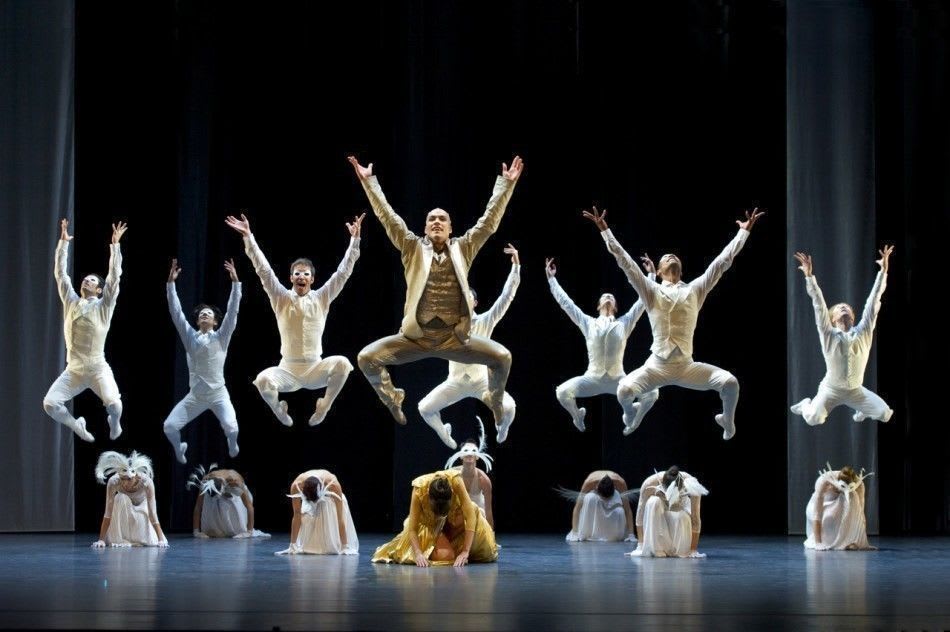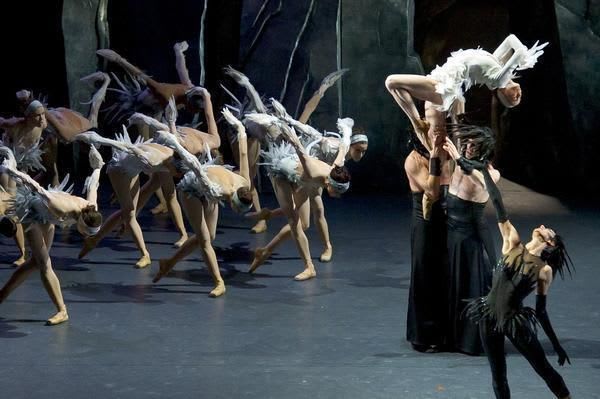 This new (2011) interpretation of Swan Lake offers a rethinking of the story and a lively new choreography. It would not please strict classicists and Tchaikovsky's music has been chopped up a bit, but, with a talented company that has inexhaustible energy, it is packed with joyous dancing.
Baron Rothbart has changed gender and become the ominous Her Majesty of the Night with a couple of sinister henchmen, black-gowned, kohl-eyed and muscular, that could have been invented by Jean Cocteau. The Black Swan is as prominent, if not more so, than the white one. Maud Sabourin's raven-like Majesty, with a crude silent caw, is finely supported in every sense by Asier Edesco and Bruno Roques as what the programme calls Archangels of Darkness.
This Queen of the Night's captive swan flock are no tutu-wearing, pattern-making phalanx of women but much more avian, spiked-feather-sprouting, leg twitching, at one point even pecking. Maillot's athletic choreography likes angular movement as male bodies leap and slide on the ground, and when his women go on pointe it is not a mere display of technique but demonstrates their arrogant confidence.
A filmed prologue sets up a backstory, presenting a stylised, masked king and queen picnicking with their little prince and his girl playfellow. A somewhat sinister woman in long black coat and dark glasses arrives with another little girl. The children try on bird masks, and then the woman snatches both little girls away.
The one who becomes the Black Swan turns up in the first act as a contender princess-bride. It is not until much later, when the action moves to the Queen of the Night's craggy cave-entrance (presumably lakeside), that the other girl appears as the White Swan.
At the colourful court of the gold-clad king and queen, the King (Alviero Prieto) is butching-up his son (Stephan Bourgond) to move into manhood in an intriguing dance for the two of them. This is a court of young men who treat Mimoza Koike's svelte Queen as their adored diva.
The Prince has a very close buddy (here called the Confidant) who sometimes shares his choreography and who often seems to lead the court in its revels—it's a great opportunity for Jeroen Verbruggen to show off his skill and vitality, but he makes him a real character as well as being a dazzling dancer.
When the girls do arrive, as the would-be princesses, it is a procession first flirty then seductive until the Black Swan (April Ball) comes to captivate with her mother's magic.
It seems our Prince is hooked, but, when he pursues her to the Night cave of Her Majesty, the enchantress introduces him to the White Swan (Anja Behrend) and, as he recognizes his childhood first love, they embark on a pas de deux that mixes playful childhood games with romantic awakening. This is the girl he wants to marry and the next act sees him returning to another court ball to tell everyone.
The White Swan arrives. (The synopsis says they marry, though there is no formal ceremony) and only then, as his wife's white feathers begin to turn black is the Black Majesty's duplicity recognized and, the Prince having betrayed her, the White Swan is doomed; but so is the Black Swan, the Queen strangles her.
Back in the Night realm, where the whole swan flock is now sprouting black feathers, a final black and white contention is played out before the Prince and his dying White Swan are swirled up to heaven in an apotheosis of black drapery.
It is all stylishly mounted. Ernest Pignon-Ernest's elegantly simple sets leave plenty of room for dancing and the space vibrates with Philippe Guillotel's colourful costumes. In this version, it isn't the lakeside that is the "white act" but the third act ball with the men in white costumes wearing white domino masks, the women white gowns and bird beaks and head feathers. It is daytime so surely they aren't intended to be the swans in their girl form?
This is a scenario that follows fairytale logic rather than real reason, but there is no time to notice that with Maillot's flow-through choreography. This is continuous dancing, no stopping the story (or the pre-recorded music) to applaud bravura solos. Every dancer here is on display and it is the vibrancy of the company that will remain as the outstanding memory of this version "after Swan Lake".
Reviewer: Howard Loxton