Ladies in Lavender
Original Screenplay by Charles Dance, Adapted by Shaun McKenna
Royal & Derngate, Northampton with Daniel Schumann and Lee Dean
Royal & Derngate, Northampton
–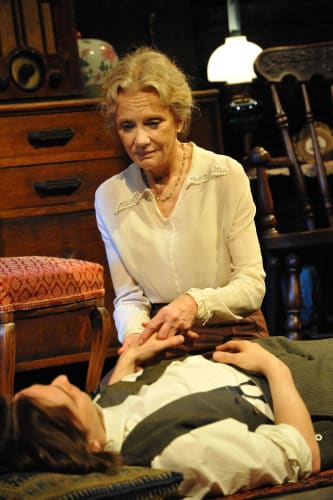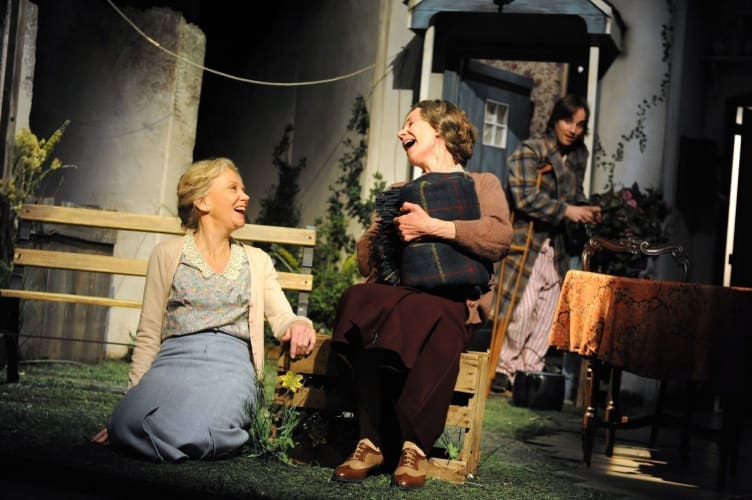 A sweet little English comedy without any thrills, Ladies in Lavender manages to convey the small town Englishness without being outrageously twee.
The piece is well acted and consistent in its pace, never really moving out of third gear but perhaps not really needing to. It is refreshing to watch theatre that is so comfortable in itself and doesn't try to add any sparkly gimmicks.
The piece is framed in a pretty and compact design: beach, garden, lounge and bedroom are all presented in a space that might have squeezed into a London bedsit. Liz Ashcroft's design instantly creates the sense that we are in a delightful Cornish village—you can almost taste the pasties!
I am conscious that I sound like a tourist board employee—I'm not and my enjoyment of this play is not based purely on enjoying holidaying in Britain. I do have to warn you that you are not served with a slice of high tension.
What is on show is some fine performances. The marketing has focused on Hayley Mills and Belinda Lang, the ladies in lavender themselves. They are both very convincing, both portraying the flaws of their characters and, ultimately, the loneliness that is felt by both women. An enduring image is the two leads holding hands in the moving finale.
Mills and Lang are well supported by a strong cast. Robert Duncan as the doctor is very convincing: bumbling and vulnerable at the same time, Duncan manages to convey a flaw in the character that becomes oh so clear as his loneliness is laid bare at the end.
Carol Macready as the no-nonsense, straight-talking Dorcas adds a light relief to the more dramatic sequences. Acting almost as a narrative device between the house and the outside world, Macready manages to play the role in a way that compliments the story rather than trying to muscle in on the performance. Abigail Thaw as the hard faced Olga is also convincing.
The award for best-cast actor has to go to Robert Rees as Andrea. Rees is the wide-eyed and handsome violinist who seems to charm everyone and the part might have been written for Rees. Not only does he display the skill required to move everyone with his violin playing but his portrayal of Andrea is very believable.
And so a gentle evening out at the theatre. No fireworks or flashing lights—the closest we get to stylised performance is the appearance of Andrea playing his violin on stage and the wireless at the same time. Yet, Shaun Mckenna's adaptation really doesn't need any bells or whistles. Thankfully this is clearly understood by director Robin Lefevre and the talented company.
Reviewer: John Johnson