Ladies That Dig
Joyce Branagh & Company
Dukes Theatre, Lancaster
–

Listing details and ticket info...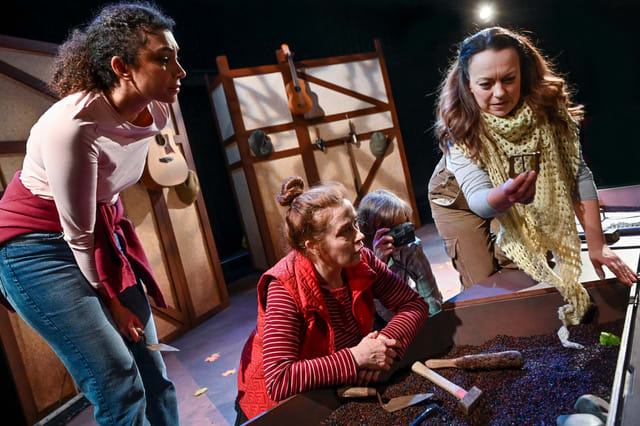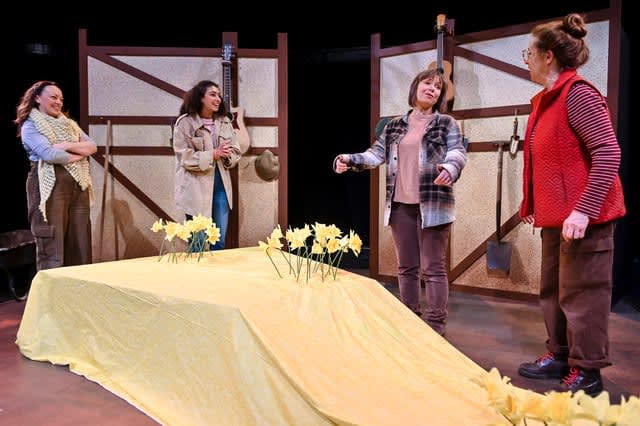 After successfully cruising the 555 bus route from Lancaster to Keswick in Ladies That Bus, pretty much the same team of theatremakers now get their hands dirty in this earthy sequel.
Using the same technique, of interviewing hundreds of local folk to construct a narrative, they've turned their attention to those scions of the soil, the women who keep allotments, or are archaeologists, detectorists, anthropologists, or even gravediggers.
It proves fertile ground for an amalgam of interwoven tales performed by a cast of four. It may not have quite the same direct route as their bus journey, and one or two characters and their situations prove a little indistinct, but there's no denying the invention and sheer good humour that powers this production along.
Much like the common bond that unites the individual stories, two hours of time spent sharing a love of the great outdoors proves gently recuperative.
Indeed it's remarkable how invested you can become in discovering whether their next dig down will unearth some object from centuries past—or a potato!
Their main stage props are three planters on wheels, each filled with soil and surprises, though you would have to fear that continually shifting them about the stage is going to put one or two gardeners' backs out, during their regional tour of the production.
Lead writer Joyce Branagh becomes characters ranging from the insecure, to a medieval woman in green; Lisa Howard, a collection of 'crusties' but with a flame-haired moment in the Beyoncé spotlight; Riana Duce, a series of young women drawn to the soil, or the sands of Morecambe Bay; and Helen Longworth provides any number of roles, but above all another set of stirring original songs. It's her compositions that sprout naturally out of the show, bringing moments of high comedy or touching pathos.
Director Kirstie Davis and choreographer Zak Phillips-Yates add their own top dressing, leaving you wondering what the Ladies might unearth next?
Ladies That Dig tours across the country for several weeks, and ever loyal to their bus route, includes dates in Keswick and Kendal.
Reviewer: David Upton