Ladies' Day
Amanda Whittington
Hull Truck
Theatre Royal, York
(2006)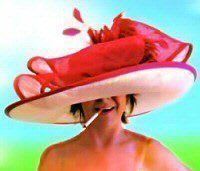 The temporary relocation of Royal Ascot to York last year was a memorable event. Local residents who had to struggle with the chaotic traffic conditions it caused will certainly never forget it, nor will the taxi drivers who just for once had a good excuse to avoid the city centre and take their unsuspecting passengers on an expensive detour! But one person's nightmare is another person's dream come true, especially if that person is of the female persuasion and needs an excuse to wear an eye-boggling hat.
This revival of Amanda Whittington's highly entertaining play, directed by Gareth Tudor Price with Hull Truck's original cast, is the story of four fish factory workers - Pearl (Annie Sawle), Shelley (Jemma Walker), Linda (Lucy Beaumont) and Jan (Sue McCormick). Pearl is leaving to spend more time with her husband - not retiring, as she is keen to point out - and on the spur of the moment she decides to celebrate with an all-girls outing to Ladies' Day at York. After years of fish-filleting the pals are ready for a spot of filly-fancying, but is Royal Ascot ready for them?
The first difficulty they face is the most obvious one - obtaining tickets for an event which has been sold-out for months. Horrified by the prices asked by a ticket tout (Martin Barrass, who pops up in every male role), the foursome are on the verge of settling for a pub lunch instead. But a lucky find by Linda, a shy young woman with an all-consuming passion for Tony Christie, enables them to rub shoulders - however briefly - with high society.
Whilst brassy would-be star Shelley misses no opportunity to mug for the TV cameras and go hunting for rich men, the naive Jan is astonished when Pearl makes a confession to her - for years she has had a lover, a bookie who didn't turn up for their last rendezvous. No wonder Pearl was so keen to attend Ladies Day and is so knowledgeable about the Tote
Although the humour is sometimes a little heavy-handed, Ladies' Day is a clear winner in its field. The characters are broadly drawn but never quite cross the line into caricature, with Sue McCormick giving a standout performance as devoted single mum Jan. Martin Barrass does go rather OTT in his multiple roles, but as this is last outing in trousers before donning the frock and bloomers of an Ugly Sister he's probably just getting into panto mode. Richard Foxton's set is simple but effective and the soundscape by Sarah Cauldwell and Roberto Del Pino draws heavily on Linda's favourite singer. Verdict: the going is good at the Theatre Royal.
At the Theatre Royal, York, until 18th November
At Hull Truck Theatre, Hull, from 20th to 25th November
Reviewer: J. D. Atkinson