Ladies and Gents
Paul Walker
Semper Fi at Trent Bridge public toilets, Nottingham
(2004)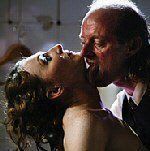 Many of the quirkier shows which vie every August for audiences in Edinburgh, especially those which are performed in unusual venues, disappear down the pan once the Fringe is over. Not Ladies and Gents, Dublin company Semper Fi's tale about perverse (heterosexual) pleasures in public toilets.
Semper Fi's aim is to create significant theatre out of unexpected tales within site-specific locations. I decided to find out if Ladies and Gents fits into that category. That was why I could be found on a chilly evening standing outside public lavatories which, thankfully, were closed unless you'd booked for this intriguing show.
You get a sense of trepidation and even foreboding as you line up on the pavement with fellow ticket-holders and are given a card. Black signifies that you start in the gents, white in the ladies.
I and about twenty others were ushered into the gents by a man with a torch who allocated each of us a space next to the urinals or cubicles. He barked out: "Don't move from that position!"
The lights went out. Standing there for a couple of minutes, with the darkness making you increasingly uncomfortable as the stench permeated your nostrils, was an almost surreal experience. Then the haunting music began. A voice told you it was 1957 and Alan Simpson had been imprisoned for producing Tennessee Williams' The Rose Tattoo at the Pike theatre, Dublin. The appearance of a condom on stage breached a 19th century law, leading to uproar and riotous indignation. In October of the same year Peter Evans, a prominent politician, hanged himself after compromising pictures were published in a daily newspaper.
Two characters appear and you're soon aware that an arrangement has been made for Mr X to have sex with the Stranger's wife. But nothing is as simple as it seems in this tale of blackmail, revenge and double-crossing.
By the end of the performance in the gents, I thought this might be one of those plays which doesn't tie up all the loose ends and leaves so much to your imagination. But after a couple of minutes in the ladies, everything begins to fall into place. The man who turns up to meet prostitute Emily is in fact a photographer who wouldn't have been out of place on a downmarket tabloid.
It all fits together very cleverly to produce a tense, incomparable evening which would have worked satisfactorily in a theatre but has far more bite in such unconventional surroundings. And it conveniently doesn't matter which half of the play you see first.
There's commendable acting from Charlie Bonner, Ned Dennehy, Emmet Kirwan, Fiona O'Toole and Bern Deegan; inspired direction from Karl Shiels; and superb work from Sinead McKenna whose lighting gives the space an incredibly seedy feel.
If you'd asked me before this production about my idea of a good night out, it certainly wouldn't have been standing with a load of strangers for three-quarters of an hour in a space which I'd normally spend as little time in as possible. But Semper Fi have proved the only barriers to theatre are those that are in the mind.
"Ladies and Gents" continues until Saturday
Reviewer: Steve Orme