Lady Anna: All At Sea
Craig Baxter
The Production Exchange
Park Theatre (Park 200)
–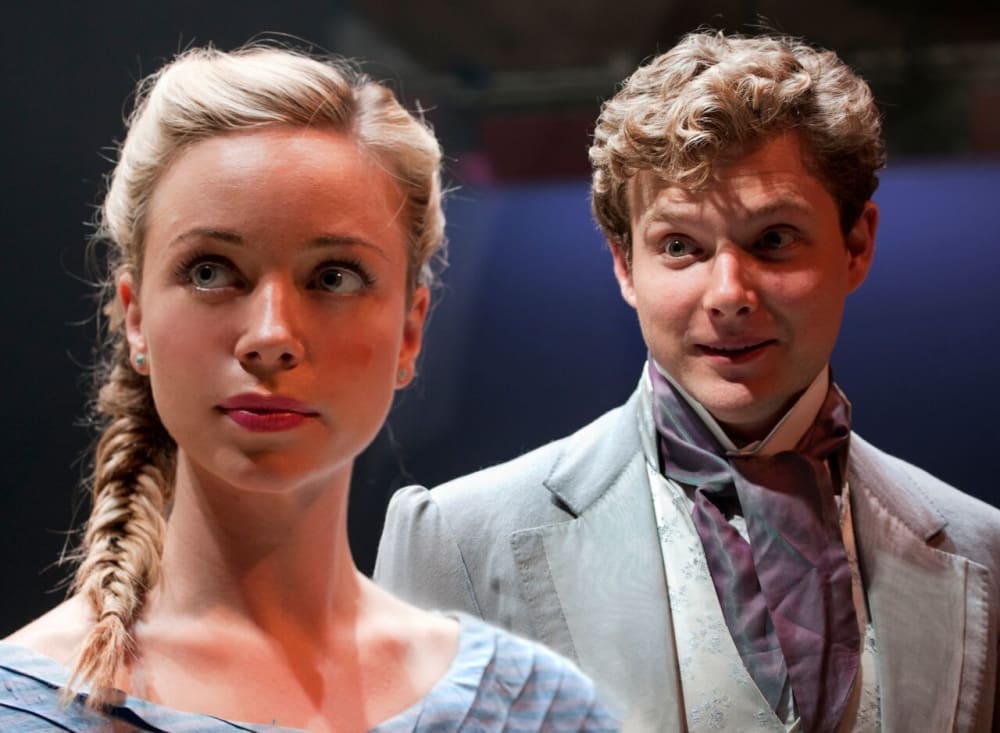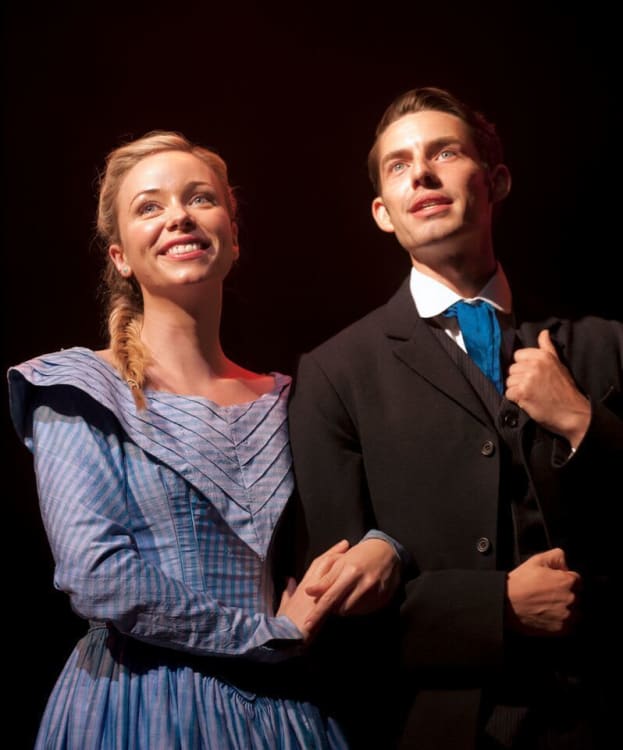 This is a play that presents both a bit of Anthony Trollope biography and an adaptation of one of his stories, told as the novelist writes it, shipboard on his way to Australia in 1871 where his son has a sheep farm.
The two strands are cleverly interwoven by Craig Baxter. Actors switch from passengers on the famous SS Great Britain (which you can now visit in dry dock in Bristol) to their roles in the developing fiction with the flick of a shawl or the doffing of a hat but Colin Blumenau's direction never leaves you in any doubt of whom they are playing.
Trollope aims to turn out nine pages a day: a voyage of 59 days he calculates equals a two-volume novel. His wife Rose has the job of making a fair copy of his writing. The first person always to see it, she gets upset when their maid Isabella sees one section before her, and both she and fellow passengers have concerns about the way the story is going for it threatens to challenge their ideas about society's social order. Indeed, that is what it is about.
An impoverished gentlewoman, widow of Count Lovel (whom everyone seems to agree was a bad man and who seems to have abandoned her), wants her title acknowledged and to ensure that her daughter inherits his money—but there are claims that when he wed her he was already married to an Italian aristocrat.
The would-be countess and daughter Lady Anna have survived thanks to the shelter and financial support of tailor Thomas Thwaite, with whose son Daniel Anna has grown up and formed an attachment.
The Count's title has passed to a nephew who lacks the means to live up to it. Who will get that? Money means lawyers and one of them, whose humane view of others seems to echo the author's, sees a solution in a union between Anna and heir Frederick. When an introduction is made, Freddie falls for her but Anna is in love with her tailor boy Daniel, a young man who describes England's peerage as out-dated mastodons.
When an author puts such ideas in a character's mouth, you get an idea of where his own sympathies might lie, but Mrs Trollope and their fellow passengers have their own ideas about whom a well-bred young woman should marry—and so does the character's mother.
Costumed precisely in period, designer Libby Watson gives it an elegant, abstract setting. Backed by a dappled white cloth bearing a portrait of author Trollope, she covers a white stage with stacked-up, stylized books, which can be arranged to provide the equivalent of furniture or scenic elements such as a series of stepping-stones crossing a river.
That is where the play opens, in Wharefdale, bang in the middle of the story, with a theatrical ploy that neatly establishes the style of the production, Adam Scott-Rowley's handsome Frederick and Antonia Kinlay's charming Anna already appearing a well-matched couple.
Tim Frances is a bustling Trollope, the warm-hearted lawyer and the self-sacrificing elder tailor. Caroline Langrishe is a loving but slightly prickly Mrs Trollope and Anna's mother, obsessed with status. There is a nice moment when, having screamed "Impudent slut!" at her daughter, she comes out of character to tell the audience that Trollope really did write that.
Edward Halstead is Freddie's sour clergyman uncle, a conscientious but sly lawyer and a passenger named as Dullard, making stereotypes seem real. Julie Teal is his crusty Aunt Jane and an American passenger quickly characterised by the way she says Trollope.
Lovers Anna and Daniel are lightly written but Antonia Kinlay and Will Rastall give them strong personality with Kinlay providing another sharp performance as the Trollopes' maid and Rastall popping up as Anne's maid when she suddenly needs one. (For a moment this seemed like a part of the plot, which could have been intriguing).
In fact the plot with its themes of inheritance, litigation and romance or propriety is something of a Victorian cliché. A murder attempt stirs in some melodrama and for the happy ending the choice of happy couple is left to the last. The format and costuming inevitably sets the fictional story in the same period as the voyage so it can't add the additional political element of the original being at the time of the First Reform Act.
Trollope says (and I presume the line is a quote) that character interests him more than plot and this cast creates characters eminently watchable. The play's theatricality makes it extra engaging and, though it couldn't claim to be especially important, this production makes a witty and engaging entertainment.
It was commissioned by the Trollope Society and forms a delightful way of celebrating Anthony Trollope's Bicentenary.
Reviewer: Howard Loxton