Lady Chatterley's Lover
D H Lawrence, adaptation by Phillip Breen
Sheffield Theatres and English Touring Theatre
The Crucible
–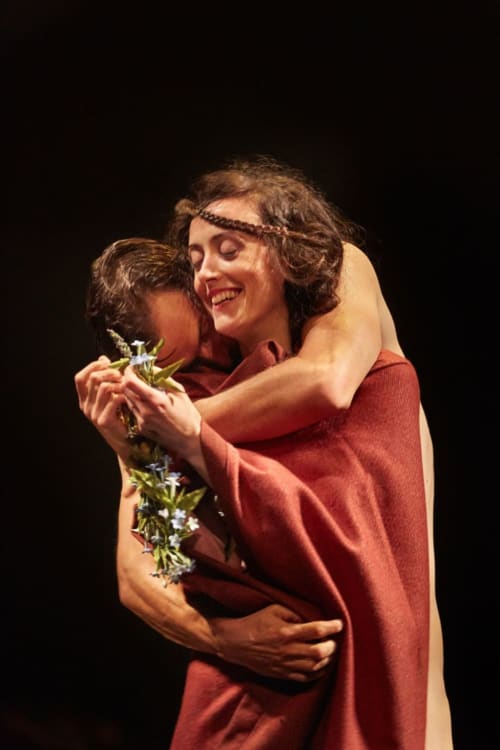 Lady Chatterley's Lover (1928) can hardly be regarded as one of Lawrence's most effective pieces of writing. It is not as biographically interesting as Sons and Lovers or as complex as Women in Love, both written significantly earlier in his career.
What gives it its enduring interest and notoriety is the 1959 obscenity trial in which the prosecuting counsel asked, "is it a book you would wish your wife and servants to read?"
Nearly a century later, the sexual mores and language of the novel are familiar, relatively innocent and no longer as shocking as in Lawrence's day. Consequently, it is some relief to find that Phillip Breen's adaptation places the love interest in the broader context of a society straining to redefine its class structure after the levelling effect of WWI.
Lady Chatterley's husband, mine owner and establishment figure Clifford has become sexually incapacitated as well as crippled after a horrific war injury. Encouraged by Clifford to become pregnant in order to provide an heir for the estate, Constance attempts to sate her own sexual frustration, first in an unsatisfactory liaison with a member of her own class and later with the inarticulate but lusty gamekeeper Mellors.
The central trio of characters is well-defined in the adaptation and performed with authority, passion and conviction by Hedydd Dylan as Constance, Eugene O'Hare as Clifford and Jonah Russell as Mellors. The developing relationship between Constance and Mellors is punctuated by left-wing protest meetings seeking to overthrow the established order, by police violence and the waving of the red flag.
In the first half, scenes are short and episodic, often introduced by mood-establishing live piano music or unaccompanied singing and ending with a frozen image which lingers in the mind. The set is essentially bare but dressed with flowers to mark the changing seasons, which also denote changes in the central relationships. In one importantly symbolic scene, Clifford, released to a sort of independence and freedom by the purchase of a motorised wheelchair, gets stuck in the mud in the woods and with angry reluctance has to accept Mellors's and Connie's help to get free.
The scenes of simulated sexual activity are convincing and discrete and the discarding of clothes represents a shift in the relationship from carnal satisfaction to trust and love. Breen celebrates the opportunity to present sex scenes which are not controlled, as in film, by an authorial gaze determined by the lens of a camera. Unfortunately, in the second half, an extended frolic in the rainy woods, reminiscent of Glastonbury or the Summer Solstice at Stonehenge, goes on for too long, is unconvincing and embarrassing and could have done with more authorial intervention.
In fact, there is a distinct change of style in the second half of the play. Short scenes are replaced by longer ones, there is less external reference and the inarticulate Mellors finds his voice and loses his charisma. Symbolism gives way to a rather tedious Realism.
There are strong support performances from Rachel Sanders as the nurse who brings solace to an increasingly desperate Sir Clifford, from Will Irvine and Ciaron McIntyre in a range of important minor parts and the remaining cast and pianist David Osmond for interludes of singing, mime and additional roles.
This production stimulated a lot of animated discussion during the interval, about Lawrence's novel, the adaptation, changing sexual, social and political attitudes, contemporary relevance and nudity on stage. A stimulating evening in many ways!
Reviewer: Velda Harris