Lady of the Camellias
John Neumeier
Stuttgart Ballet
L'Opera National de Paris at the Palais Garnier
From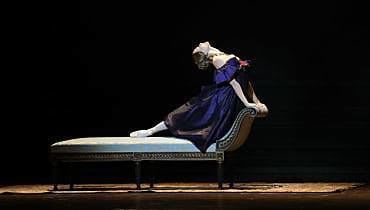 The Lady of the Camellias is Marie Duplessis, the famous French courtesan, who died of consumption in 1847 at the age of 23
Alexander Dumas fils wrote his novel, La Dame aux Camelias, when he was 23. Based on his affair with Duplessis, it was published in 1848. He then turned the story into a play in 1852. Its huge success encouraged Giuseppe Verdi to write his opera, Traviata, which premièred in 1853.
Actors who have played Marguerite on stage include Bernhardt, Duse, Réjane, Tallulah Bankhead, Edwige Feuillère and on screen Theda Bara, Lilian Gish, Greta Garbo and Isabelle Huppert. In opera, Melba and Callas, to name only two; otherwise the list would be enormous and we will be here all night
John Neumeier created Lady of the Camellias, a three-act narrative ballet to music by Chopin, for Stuttgart Ballet in 1978 with Marcel Haydée as Marguerite
His version was infinitely superior to the one-act version, Marguerite and Armand, by Frederic Ashton for the Royal Ballet in 1963, a showcase for Margot Fonteyn and Rudolf Nureyev.
This revival online was performed in 2008 by L'Opera National de Paris at the Palais Garnier with Agnes Letestu and Stephane Bullion. They are both excellent.
Neumeier's version begins in 1847 with the auction of Marguerite's personal belongings to pay off her debts. The story is told in non-linear flashbacks, memory bites which blend, dreamlike, into each other.
The production looks good. There is no scenery as such. Settings are created by the minimum of furniture. It's simple and stylish.
Armand (Stephane Bullion) meets Marguerite (Agnes Letestu) at a theatre performing Antoine Francois Prevost's 1731 novel about the demi-mondaine Manon Lascaux and her lover, Chevalier Des Giroux, (Delphine Moussin and Jose Martinez). They immediately identify with them both.
Parallels are drawn and actions are mirrored. Manon is a constant reminder of Marguerite's own fate. Manon, sick, died of exposure and exhaustion in the swamps of Louisiana.
Marguerite has a terrible cough. She should be isolating herself at home and keeping her social distance, not partying and going to the theatre and having sex with Armand and her many, many, many admirers.
Letest plays Marguerite as a woman who is aware she is no longer young. Bullion's curly haired Armand is very boyish, an exuberant innocent, showing off, pirouetting, kneeling, falling prostrate at her feet, rolling all over her, and literally giving her life a new lift.
Their duets are long and taxing. So, too, is his solo when he realises she has left him. His breaking heart gives the end of act I a strong climax.
The most difficult scene to choreograph, and to make it clear to audiences who don't know the story, is the scene when Armand's father (Michael Denard) begs Marguerite to end her relationship with his son. The scene is acted with great dignity by the both. Chopin's music adds so much to the pathos.
Chopin's music also provides frivolous gaiety for the ensemble in their scenes of high society enjoying itself
You can see John Neumeier's Lady of the Camellias on YouTube for free.
Reviewer: Robert Tanitch