Lady Rizo

Assembly Checkpoint
–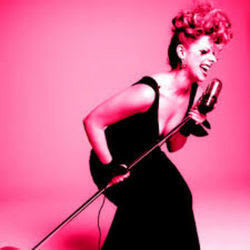 Gliding through the audience towards the stage, Lady Rizo is a performer who not only knows how to make an entrance but also one who knows how to keep an audience transfixed. With a varied set, a lot of banter with the audience and fantastic musicians, this is an hour of pure energy and glitz.
After a fantastically successful Edinburgh debut last year (including winning the TOAST award), the bar was raised extremely high for 2013 and she more than meets it with classics including Porter's "Love for Sale" alongside "Where is my mind" by The Pixies and a re-interpretation of "Blame It (On the Alcohol)" by Jamie Foxx. Genres blur as Lady Rizo gives these songs her own unique twist and the line between sexy and quirky definitely vanishes as she spits out rose petals and stuffs her own glittery glove into her mouth.
To mention too much of the set would ruin the surprise, but suffice to say there is a healthy amount of audience interaction (this is not optional!), plenty of laughs and a naughty glint in the eye of its star that suggests she could easily veer away from her script if she so chose.
A glamour puss with substance, Lady Rizo is a chanteuse not to miss.
Reviewer: Amy Yorston