Lady Day at Emmerson's Bar and Grill
Lanie Robertson
New Players Theatre
(2005)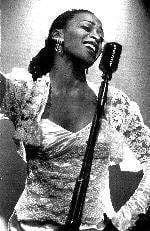 The New Players Theatre is intimate enough to suggest a jazz club. The stage is sparsely set: a grand piano with a high stool next to it and a full glass of whiskey. An old-fashioned microphone dominates the centre. Suddenly an elegant figure in ivory satin makes her entrance: Billie Holiday, one of the great jazz singers.
But it's 1959 and her voice is past her best. This would be one of the last performances before her untimely death at the age of 44.
For a woman who played Carnegie Hall, Emerson's Bar and Grill in Philadelphia must have been something of a come-down, but she loved to perform and she felt at home in these small, smoky venues where her career had begun.
Sheffield-born Dawn Hope plays the legendary Billie. Portraying a real person is demanding anyway, but Billie's highs and lows make it a particularly difficult role. Such songs as "Strange Fruit"(about a racial lynching) and "Don't Explain" (about infidelity) are emotionally draining. It doesn't matter that she does not resemble her physically (she's nowhere near the 200 pounds Holiday tells us she weighs), she manages to convey the singer's tortured state of mind. However, it is not an entirely gloomy performance. There are the up-tempo songs such as "What a Little Moonlight can do" (moonlight having the double meaning of heroin) and "All of Me" that she also handles very well.
Robertson's script is much more than simply links between the songs. It reveals the emotional rollercoaster that was Billie's life through a testimony of racial taunts, physical and mental abuse and the struggle to make it in a profession where all the best songs were reserved for whites. It isn't chronological, skipping back and forth from her prison days, to her childhood, her heroin addiction and back to her childhood again. But this apparent lack of focus merely serves to underpin the chaos of a life that is coming to an end.
Despite the anguished moments, Billie's earthy wit and humour is evident. We hear how her mother warned that her first husband was "greasing her runway to hell" and that her one talent seemed to be picking the "rottenest apple in the barrel"! And far from being cowed, you get the impression that she could give as good as she got from everyone she encountered. In one anecdote, she recounts asking to go to the toilet in a seedy venue only to be told she'd just have to "sit on it" by a snotty white woman because they didn't have a toilet for "coloured females". Of course Billie, being Billie, had the last laugh and went anyway, all over the woman's sequinned shoes!
Holiday proved to be a bit of a loose cannon on stage, particularly in these last days. She refused to stick to a schedule, singing only the songs that moved her. Her long-suffering accompanist, Jimmy Powers (played by Musical Director Warren Wills) tried to steer her towards the more popular songs that people wanted to hear (such as "God Bless the Child") but it was an uphill struggle.
At one point, Billie is unable to carry on. She leaves the stage, forcing her piano player to continue without her. When she returns we realise she's had a fix of heroin. All pretence of control is gone; her appearance is now dishevelled but she goes on with the performance.
Director Mark Clements made the right choice at the end when Billie, bathed in a spotlight, leaves the stage. A few months later she would be gone forever.
It's an enjoyable evening and a must for Billie Holiday fans.
"Lady Day" runs until 23rd May
Reviewer: Bronagh Taggart