The Lady or the Tiger
Michael Richmond and Jeremy Paul, music by Nola York, from a Story by Frank Stockton
Orange Tree Theatre, Richmond
(2010)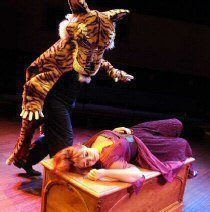 Faced with losing your lover, either to certain death by a ferocious tiger or to marry another with whom you cannot compete, what would you do? Drawing on Frank Stockton's 1882 tale of the famous conundrum that faces a princess, in a 'semi-barbaric kingdom', The Lady or The Tiger returns to the Orange Tree after originally having premiered here in 1975, before transferring to the West End.
Filled with musical numbers penned by Nola York, of The Chantelles fame (which will no doubt mean more to the older generations of readers than younger), four actors play the Prime Minister, the Princess, the King and the Hero. In this semi-barbaric kingdom the 25 year old Princess (Riona O Connor) is dying to grow up, but her despotic father (Howard Samuels) is more interested in arranging sadistic games for his quaking subjects, while his Prime Minister (Andrew C Wadsworth) fawns on his every whim. In walks 'a guy with a guitar' and after a little rolling around in the grass, the Princess is one blossoming lady.
Connor plays the Princess with perfect pitch, throwing away her childish toys and transforming into a sultry songstress with great joie de vivre. Samuels is spoilt, petulant and self-obsessed like any good fairy-tale king should be, and Wadsworth, stepping in and out of the action by stopping it with a whistle, is suitably incompetent and sycophantic. With minimum set (a wooden chest) and two talented 'court musicians' (Greg Last and Tom Sellwood) the scene is set for a heart-wrenching classical tale of torn lovers and tyrannical leaders.
Is this delivered? Unfortunately, like the yearning Princess, this feels like a musical that has yet to mature. While the writing was probably racy in the seventies, it now feels childish and unsophisticated. The rhymes are immature, and while the numbers are lively enough, nothing really hits home. It certainly works like a pantomime in performance, with audience participation, cross-dressing and a song sheet, but the laughs are weak, and the love-story unaffecting. While Eke Chukwu does his best as the lovable, laid-back, strumming Hero, ultimately his presence works like a man from noughties walking into a tired show from the seventies and he is out of place.
The cast can only be commended for their valiant efforts with this dated piece, and they certainly make the most of it (notably Samuels going swimming, and Connor getting sexy) but this piece is either for a bygone day or in need of serious updating. On the night of attendance the average audience age was certainly over sixty and perhaps it'll provide those of such a mature outlook with the pleasure of nostalgia but today's younger audience are going to be little if pleasantly entertained but ultimately dissatisfied.
Reviewer: Sacha Voit