The Lady in the Van
Alan Bennett
A Gala Theatre Production in association with Richard Jordan Productions Limited
Gala Theatre, Durham
(2010)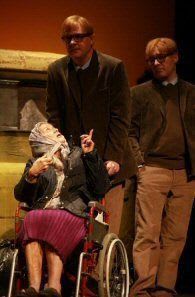 The Lady in the Van tells the true story of a bag lady who drove her battered old Bedford van into the garden of playwright Alan Bennett with the intention of parking there for three months, but who ended up staying for fifteen years.
It's a strange piece which is constructed from a series of pivotal events rather than following a linear path. The wit is understated, the themes low-key, and sometimes the pace moves so slowly that you almost begin to believe that Miss Shepherd's van might overtake it.
Nevertheless, the poignancy and perceptiveness of Bennett's bittersweet observations are enough to subtly engage and, before you are aware of it, you are hooked by the curious relationship between the indomitable, cranky and completely batty old woman and the intellectual, introverted, mild-mannered playwright.
Rosalind Bailey, as Miss Shepherd, is a one-woman wonder and she nails the role with expert precision. Her performance is carefully crafted and hallmarked by spot-on comedy timing, convincing characterisation and an indisputable stage presence.
David Hedges, as the younger Bennett, and Hugh Osborne, as the elder, both successfully convey the mannerisms, voice and intonation of the playwright. However, there were moments when I felt that there was an element of competition between the actors as to who could do the best Bennett, and this resulted in Osborne occasionally sounding like a cross between Russell Harty and Melvyn Bragg.
Lucy Campbell has designed a stylish and atmospheric set, depicting Bennett's study which looks out at Miss Shepherd's battered old Bedford (and, at one point, a rusty old Robin Reliant, too!), against the backdrop of a silhouetted terraced street, punctuated by a solitary lamp-post.
Simon Stallworthy, directing his thirteenth in-house production for the Gala, demonstrates a complete understanding of the piece and handles it with reverence and responsibility.
The Lady in the Van may not be a piece that hurtles along at an all-action breakneck speed, but it is an astute study of human relationships, highlighting the fallibility and complexity of the species.
"The Lady in the Van" continues at The Gala Theatre, Durham until 27th February.
Reviewer: Steve Burbridge