The Lady Vanishes
Based on the film by Alfred Hitchcock, adapted for the stage by Mark Simpson
Triode Productions
Journal Tyne Theatre, Newcastle, and touring
(2010)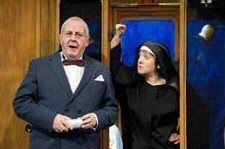 As The Lady Vanishes will always be associated with the 1930s Alfred Hitchcock film version, starring Michael Redgrave and Margaret Lockwood, Triode Productions are to be congratulated for introducing this story to a new audience.
Telling the story of a group of travellers stuck in a hotel before boarding a train, the story does pick up pace once the rail journey starts, but takes itself too seriously. Unlike the current hit version of The 39 Steps which goes for the tongue-in-cheek, send-up approach, while still managing to follow the original story, The Lady Vanishes is acted as a straight play with a few comic touches, which does not work. It either needs the classic look and feel of the recent Agatha Christie The Spiders Web tour, or to be written in a similar style to The 39 Steps to work.
Once the hotel set, designed by Maurice Rubens, transforms itself in to the Trans-Alpine Express, we see the characters move from carriage to carriage as the train literally moves across the stage. Then once "the lady vanishes" we are left with a whodunit situation, as Iris (Penelope Rawlins) tries to convince all around her that she was really travelling with Miss Froy (Jane Evers) before the elderly lady appeared to vanish in to thin air. At first everyone denies the Miss Froy ever existed before uncovering the awful truth.
While none of the cast can be faulted, it is Terry Molloy (Dr Who and The Archers) as Salvatore and Dr Hartz, along with Andrew Bone and Clive Flint, as the cricket mad Englishmen trying to get home for the test match, who keep the story moving along.
There is no doubting the train set is cleverly thought out, but it just does not look right as behind it hangs a simple static back cloth of mountains, so any effect of the train moving is lost.
This production will work better in smaller venues but had the potential of offering so much more from its talented cast had it played more on the comedy aspects.
Reviewer: John Dixon