Lakeboat & Prairie du Chien
David Mamet
Play Productions Ltd
Arcola Studio 2
(2011)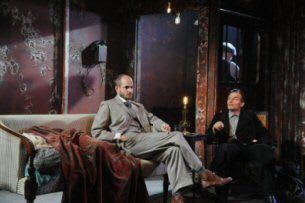 This is a double bill of Mamet's 1980 play, which drew on his own experience as a cook on a cargo vessel, and an adaptation of a radio play of 1978.
Lakeboat is set on the T Harrison, a cargo vessel plying the North American lakes out of Chicago, on which Ivy League college student Dale (Steven Webb) has just arrived to work during vacation. The first thing he learns from seaman Joe (Nigel Cooke) and Chris Jarman's Pierman is that he's replacing a guy who disappeared. The tales they tell are unnerving but this is not so much his story as a collection of character studies and a close-up glimpse of a few of the 45 crew.
Designer Helen Goddard's pocked oxide-red setting makes it feel as though the T Harrison is a rusting old tub though the wide set, except for a narrow glimpse of the galley, does little to suggest the way it confines its crew. We meet a whole range of seamen in about four dozen scenes, some only a few lines long and moving from galley to wheelhouse to engine room, that Abbey Wright's smooth production rapidly segues together.
Watching the dials down in the engine room, Mark Lewis's eccentric old Fireman reads to keep boredom at bay. Up on the bridge (here sat up at the top of a side aisle) Roy Sampson's Skipper and Ed Hughes as First Mate Collins are cut off from those down below, sometimes bellowing down a loud hailer rather than use the intercom.
Twice married and complaining about child maintenance, seaman Fred thinks he knows all about women and lectures Dale on how they like to be treated rough. Played by Rory Keenan he's sexy enough to see how he might score but he doesn't think beyond fucking.
It is a world where for some booze can dominate conversation and where women are "soft white things with a hole in the middle", but which among them was the figure that came floating on before Dale entered, all balletic in organza, and what did he signify?
Prairie du Chien is set in an old time railcar as it speeds through the night across this plain in Wisconsin, stopping at the city of the same name where passengers can get out and stretch their legs. This production makes it a comfortable lounge car where a couple are playing gin rummy at a table while nearby another insomniac begins recounting a long and elaborate story to another who listens sitting beside his sound-asleep son. It is a strange story of murder, suicide, arson and something ghostly. Nigel Cooke makes a charismatic Storyteller, using every hiatus effectively as he is continually interrupted by altercations from the card players, one of whom is seriously losing and beginning to suspect the other a cardsharp. Deepening mystery is intercut with escalating confrontation until a gunshot rings out.
There is little sense here of being on a train, of people in transit when conversations start between strangers, but the orchestration of the two elements, the timing of Rory Keenan's trigger-happy loser and Nigel Whitmey's bullish Dealer to interrupt the story is fine-tuned to perfection. This 20-odd minute piece is dramatic, even if basically plotless, and both Prairie du Chien and Lakeboat provide opportunities for some excellent acting.
Runs until 7th May 2011
Reviewer: Howard Loxton