Land of Lights
Tim Webb
Oily Cart
Arts Depot
–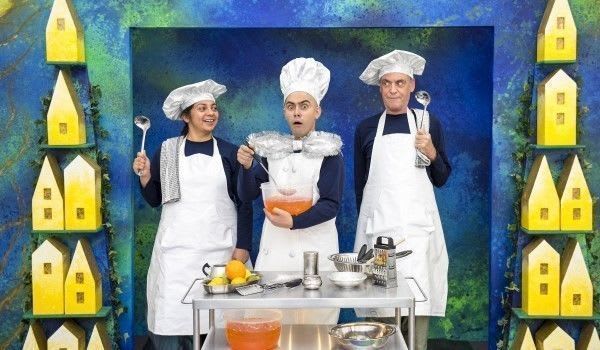 Oily Cart's new show, currently touring, is aimed at children aged 3 to 5 and their families and offers a colourful piece of storytelling to excite the imagination, stimulate investigation and actively involve every child in the audience.
It begins before you go into the theatre with explorer Professor Bumble, his assistant Crumble and their musician who is playing a cimbalom. You can see they are off on an adventure because they are all wearing a kind of straw topee. The professor shows everyone some tiny things brought back from the land they are going to. He's got a big magnifying glass. Seen through it they look bigger.
The Professor not only issues an invitation to join their expedition but also kits everyone out for the adventure with a jungle camouflage explorer's outfit.
The journey begins when everyone is ready and then everyone is off to the Land of Lights. It's a place where people are much smaller than we are. The route goes past their little golden houses. Look, you can see into the windows.
Soon there is a bigger space, all green and blue behind the gold houses but surrounded by darkness. There are cushions to sit on, low bench tables in front of them and chairs ranged behind for the grown-ups the children have brought along.
There is still no trace of people, until out of the sky a hot air balloon descends. There's a little person in it. She is called Pol and she is looking for stars; stars that have disappeared from the sky that is all dark and empty. Have you seen them?
Pol takes a trip through the sky to new lands and everyone goes searching with her to find people who may know where the stars are.
There is a gardener on his way to market, he has got herbs to smell and he thinks something fell from the sky and dropped into his seed stores. A cook, whose helpers grate orange, lemon and lime zest that you can sniff, remembers something going splash into the bowls when he was making jelly. A man who makes and sells bubbles, and gives everyone some to hold, also thinks he saw something and then there's a glittery man in a gold outfit.
Are there stars in the seeds, the jelly, among the bubbles? Someone finds a balloon, other children too but some find a bright shining star that is given to Pol to take up in her balloon—but that isn't all the help that is needed to put the stars back in the sky so that the little people can come back to their homes.
For just under an hour, the young audience is kept captivated in a friendly environment, following the simple story and playing their part in it. Some need a bit of encouragement to dip their hands in and search for stars (when that part is over there is warm water to wash sticky fingers and towels to dry them), some who bolder give extra help to the performers, but no one is left out.
Claire de Loon's rich costumes and delightful setting are a feast of colour and novelty, Tomos Brangwyn and his cimbalom provide a lovely music score (composed by himself and Max Reinhardt) and he sometimes joins in the action while the cast of John Afzal and Susannah Austin led by Oily Cart veteran Griff Fender create a succession of intriguing characters and, more importantly, skilfully interact with the children.
Land of Lights offers an intimate experience that is created with a real understanding of what children this young will enjoy.
Reviewer: Howard Loxton