Landmines
Phil Davies
Bridge Theatre Company
Ovalhouse
–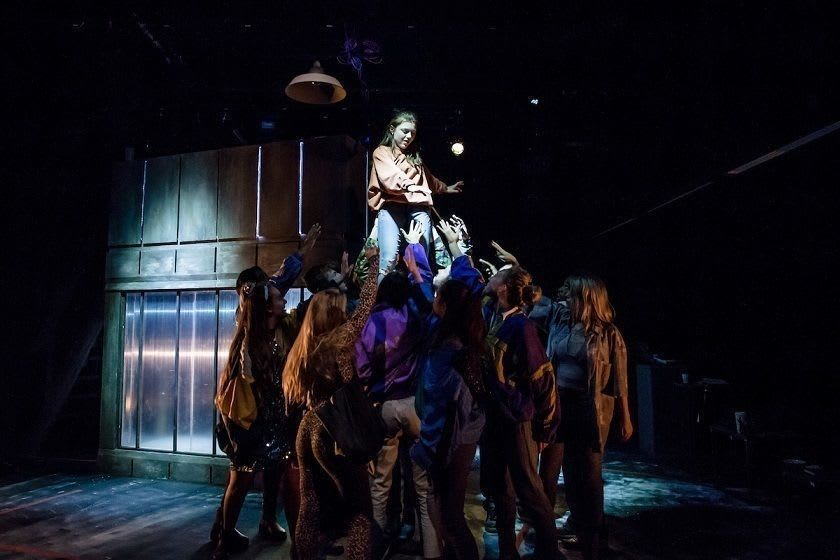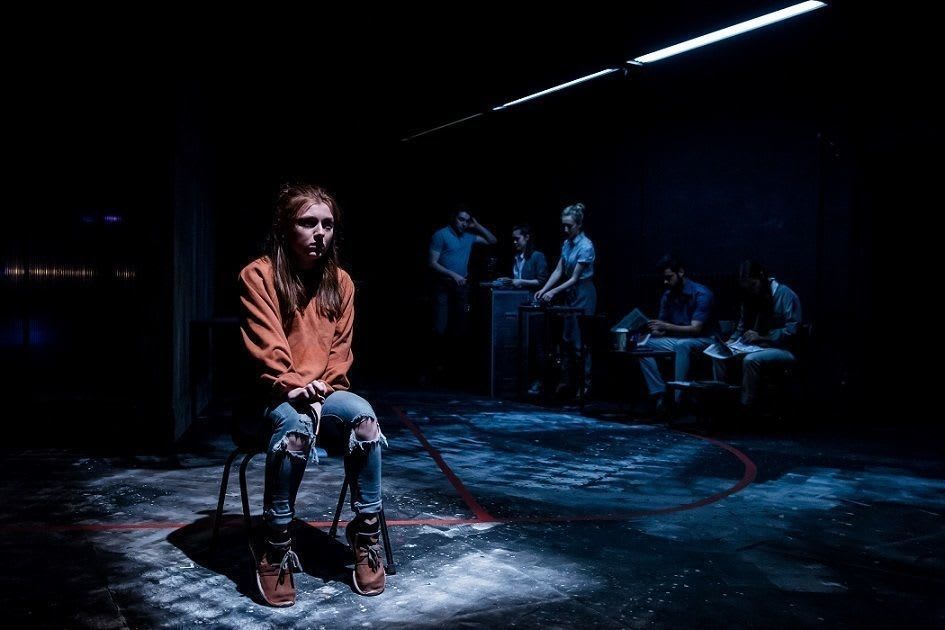 Phil Davies's bleak, fast-moving play Landmines is set in the near future where rising levels of xenophobia and right wing politics are causing a particular crisis for young school teacher Vida (Imogen Fuller).
The Government has a ruthless policy of deportation and a right wing web site The Altar has raised its profile massively by broadcasting on the Internet video footage of a man stabbing to death a woman politician in the street.
We are reminded of their baleful influence by a group of Altar "journalists" working by the side of the stage throughout the performance.
The play opens with Vida speaking to an unseen figure about something terrible she has done, then shifts backwards in time to show us a series of events that led to that point.
There is the row she has in a school meeting for staff that is supposed to be clarifying new rules under the British Values and Traditions policy. She is appalled to hear that a child has been deported because when a teacher sent him from a classroom "he said something about Allah under his breath".
Even more disturbing for Vida is news that a black student is being deported because of a report she made about him angrily knocking things off the librarian's desk when he learned that books about black history had been removed from the library.
Losing her job and her home, she searches for some way of challenging the political landscape. She argues with a group of left activists who seem to lack a strategy and are unwilling in her words to be "as ruthless... as the right." Briefly, she is inspired by the words of a DJ in a club.
Occasionally, to Max Perryman's unsettling and effective soundscape, her panic becomes so intense that the action freezes as she imagines causing extreme physical violence to bigots and the establishment.
There are some visually striking scenes and a cast who give consistently good performances. In particular, Imogen Fuller is remarkably warm and engaging as Vida.
This play is a grim, pessimistic vision of a world that might emerge in the wake of an American election that boosted the American alt-right, the murder of the MP Jo Cox during an EU referendum campaign that stirred up racism and a Government Prevent strategy that many people believe stigmatises Muslims.
However, Vida's desperate action will not do anything to stop the things she objects to and no alternatives are explored. There is simply the dramatic warning of a present danger.
Reviewer: Keith Mckenna