Larkin with Women
Ben Brown
Orange Tree, Richmond
(2006)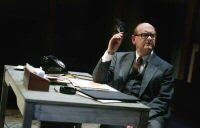 Neither friends, colleagues nor lovers of the poet Philip Larkin have been sufficiently kind to his memory since his death from oesophageal cancer 21 years ago, not least his official biographer Andrew Motion.
From the lugubrious jazz-loving misanthrope delineated by Tom Courtenay in his solo performance piece, Pretending To Be Me, to the right-wing xenophobia revealed in his published exchange of letters with Oxford chum Kingsley Amis, Larkin has been steadily vilified by popular opinion, less concerned with his poetic insights and literary achievements than with amusing gossip about his unusual sex life.
And as the evidence has piled up he has become pigeonholed as a suave, undeserving 'Humberside Don Juan', with a facility for fascinating gullible young women queuing up for a kind word and a squeeze, if not for his fidelity.
But this is not his character as defined in Ben Brown's tender portrait, based on Motion's Life and first performed at Scarborough in 1999. Instead, beautifully staged and directed by Alan Strachan, it offers a jolly peek into the private life of the Hull university librarian from the mid-Fifties to his death almost three decades later, a period when Larkin was keeping three women on the go without marrying any one of them. As he tellingly says at one point, "I only had two women before I had you three."
Nor is Oliver Ford Davies (who originally played the part at Scarborough) remotely like the Larkin we have come to know from the literary gossip and television profiles.
True his Larkin has a balding tonsure, wispy brown hair and a pair of horn-rims above a gently bulging tummy. But this is a jollier, late-middle aged Larkin, a master of repartee and tenderness as he might have become had he survived dying in his early sixties, while Davies's cherubic niceness adds a frisson to Larkin's four-letter conversational gambits.
The sole villains in this version are the hated rival poet Ted Hughes (a shoo-in as Laureate if Larkin turns down the post — which he did); close friend Robert Conquest on the telephone as a cruel practical joker; and prolific novelist Iris Murdoch, who becomes a soft target for Larkin's mockery as he alters the title of her first novel, Under the Net, to read Under the Nether Garments in the Hull university's library copy — a trick more worthy of Orton.
The delightful trio of women are led by tall, leggy Carolyn Backhouse in fishnet stockings and stilettos, reviving her Scarborough role as the constant, ever loving Monica, again with a sexual vivacity and warmth that surely undermines Larkin's claim that 'deprivation' was to him what daffodils were for Wordsworth.
Maeve, who died recently, was the Roman Catholic girl who became a muse for dozens of love poems, here played with sweet touch-me-not charm and delicacy by Orange Tree regular Amanda Royle. And in a performance that matches Davies for zest, Jacqueline King as his secretary Betty copes as briskly with the hard porn mags on his desk as she does with a comradely post-coital cuddle on the sofa.
The in-the-round setting makes demands on the actors as they reset the stage between scenes, and there are some tantalising extracts from the poems and blissful jazz selections. But the final hospital tableau as the dying Larkin crosses his hands in repose, touchingly echoes the recumbent knight in the Arundel Tomb poem, a work-in-progress as the play begins, usefully quoted in full in the Orange Tree's well-researched programme.
Reviewer: John Thaxter