La Ronde
Arthur Schnitzler, translated by Neil Sheppeck
Love&Madness
Riverside Studios, London
(2009)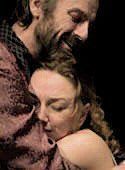 Neil Sheppeck has created his own hugely entertaining version of a play that has been causing controversy ever since Schnitzler's text was first published in Vienna in 1903. Then it was called Liebesreigen (A Round of Love), a daisy-chain of ten short sexual encounters which the author described as 'unperformable.'
In fact the premiere of Schnitzler's play took place in Berlin in December 1920 under the German title of Reigen, which two months later sparked an organised riot followed by obscenity trials.
With a sigh of regret Schnitzler withdrew the play, but his son Heidrich allowed a few sporadic revivals in France and elsewhere. Then in 1950 Max Ophuls' romantic movie version gave international currency to its French title of La Ronde.
As originally written, a row of asterisks marked each physical coupling to indicate a discreet lowering of the curtain, while the film deployed fade-outs. But when the copyright expired in December 1981 the RSC was first to stage the play with lovers' limbs explicitly entwined and at least one brutal penetration, a production which Irving Wardle for The Times summed up as "Wham, Bam, Thank you Ma'am."
It is also worth recalling that just a decade ago the play re-emerged as David Hare's The Blue Room, starring Nicole Kidman playing all five female roles and inspiring the Telegraph critic Charlie Spencer to coin his cheeky response: "Pure theatrical Viagra!"
But with five actors , three men and two girls, the Love&Madness movement director Jane Stanton has brilliantly sidelined the repetitive rumpy-pumpy with her sexually charged use of tango — often horizontal tango it's true and only once in heels — combined with astonishing agility to suggest passion and possession, animal lust, moments of ecstasy and fulfilment.
Indeed I often found myself wishing that Sheppeck had been less generous with Schnitzler's words and given us more of the dance action, especially as this was performed to a superb musical track of tango recordings by the anagrammatical, Paris-based Gotan Project who have even given a Blondie number a precise tango rhythm — or was that a Blondie original and not a cover version?
Sheppeck's major departure from what we expect from La Ronde becomes evident in the opening moments when the young squaddy here becomes an armed woman in khaki drab enjoying a quickie with a rent boy before discarding him in favour of a lesbian embrace with a parlour maid.
Later on a pompous hypocritical husband (Preston Clare in subdued voice) walks away from his saddened wife to share a ghastly foot-licking, toe-sucking encounter with a youth who, though brilliantly played by Cary Crankson, is a long way from the sweet girl who usually occupies this slot.
The boy in turn then progresses to a sexual sparring encounter with Simon Yadoo's coolly sensuous poet, which by then had me reflecting that three same sex encounters out of ten surely exceeds the national average while robbing the girls of two opportunities to strut their stuff.
This is a pity for another reason because the girls dance the socks off the boys and I couldn't wait to see more of the starry, gorgeously flamboyant Lucia McAnespie and the deliciously pretty Ellie Turner who maintain a high level of erotic power both as dancers and as actresses.
The production, sharing a six month tour with an adaptation of Oliver Twist, reaches Riverside Studios after a series of 20 one-night stands in the UK and Ireland. Not surprisingly the set, designed by Nicky Bunch, is now looking a little worse for wear, but the young company still gleams with talent and intensity.
Reviewer: John Thaxter