La Ronde
A new musical by Peter Scott-Presland and David Harrod
Homos Promos
Rosemary Branch Theatre
(2011)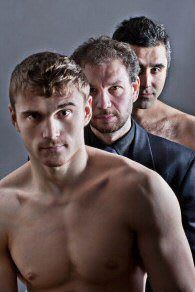 Inspired by Arthur Schnitzler's Reigen but not trying to match its situations, this is a lively look at lust (the first half) and love (the second) on the gay scene. It is topped and tailed by, and episodes occasionally interspersed with, scenes in La Ronde gay bar presided over (reigned might be more appropriate) by Bradley Clapson's barman, who's a big girl in every sense and does a stunning drag act in the middle of the show as Miss Connie Linctus singing a totally non-PC but hilariously funny number announcing "We Don't Serve Fish" directed at a lone lady he spies in his establishment.
It opens with a young innocent, still technically jail-bait making his first foray into such a venue, eager to lose his virginity but seriously surprised by what he discovers going on when he goes to what he thinks is the loo. As the kid, Simon Chilvers is charmingly gauche - and in part he gets his wish granted, thanks perhaps to a pair of fairy prop men, complete with Sylphide wings. Cutely played by Ozer Erçan and Nick Bosanko, they tunefully tippy-toe around making sure there is a bed when needed, commenting on the proceedings and acting as a kind of chorus. But it is not all good news for the Kid. He was after romance and instead ends up in bed not with Prince Charming but the scalp-hunting Wolf (Paul Bygraves in leather), who doesn't have people sleep over but boots them out as soon as the business is over.
A solider in military fatigues turns up for a date with the Wolf and this time it's S & M role play; in this guy's book a sexual act puts the emphasis on act. He's happy to be anything from paratrooper to schoolboy scout and, as played by JJ Criss, can knock off a nifty bit of footwork and I don't mean fetishism. He fears people might see him as what the Wolf pointedly describes as chronologically enriched and the one role he doesn't want is being 'the older guy'.
The soldier then discovers the internet and, serves him right for posting a much younger picture, finds himself making a date with a guy who turns out to be long-haired, bearded, rather rounded and a bit of a Jessie. As the Fag, Randy Smartnick reminded me strongly of the youngish Allen Ginsberg, and not just because he was bookish. I rather doubt that Allen would have sought comforting afterwards from a dyke girlfriend who's just split up with her rather awful sounding partner and - well one thing leads to another. They may be gay: but it can happen nevertheless.
Cheryl Mayer makes the Dyke a girl one could warm to. It is easy to see why a wife (Fiona Byrne) going through a bad patch might choose her for a little same-sex experimentation and stays out all night. When the husband finds a hair on her jacket that's not hers or his and smells of Chanel for Men he gets quite the wrong idea.
Joe Shefer as the husband - gentler voiced than most of the gay chaps - wants to talk out his fears with his best mate, who just happens to be a gay friend who fell for him long ago and when they go on drinking and drinking. Well, what did you expect, especially when Tim Schultz makes him so charming? Then cue 'God I was drunk last night', the song that goes with all those encounters that don't match what you'd want to admit to. That pair too aren't going anywhere but now back in the bar things come full circle, just as in Schnitzler's original.
Right through this is a critique of sexual attitudes and foibles, sometimes savage, sometimes gentle and all the funnier for being so true as it explores the whole spectrum of gay encounters, It has clever heavily rhymed lyrics and perky tunes which sound like Sondheim and others without being too derivative. One or two of the voices are a tiny bit rough on the edge (though a little bit of rough is perhaps what's missing from the roster of characters) but the whole cast play with vigour and commitment, make their characters seem very real, however outrageous. That's all the more effective because these aren't the muscle Mary hunks or pretty boy models with bulging packages but a range of ordinary guys, skinny and overweight, hairy and balding.
Expect explicit dialogue and a certain amount of groin touching and occasional groping but though breasts are bared there is no full frontal nudity or simulated sex which is discreetly hidden behind the cartoon bed that is part of David Shenton's simple but very effective set. Though it is specifically a gay show and some situations may seem particular to the gay scene, I think straight audiences will still get the jokes and be moved by the pathos that also underlies much of the action. Scott-Pressland's direction keeps it lively and though I went to see it thinking 'not another version of La Ronde' but came away having had a really good time!
Run ends 3rd April 2011
Reviewer: Howard Loxton