Last Confessions of a Scallywag
Dwina Murphy-Gibb
Mill at Sonning
The Mill at Sonning Theatre
–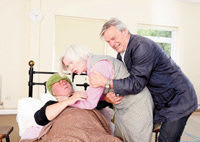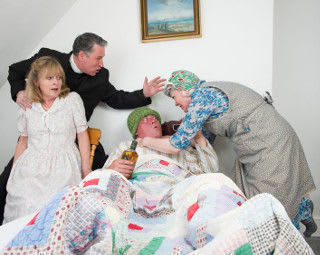 Dwina Murphy-Gibb's splendid first play is the riotous farce Last Confessions of a Scallywag set in Ireland, the author's homeland, and is an absolute laugh out loud romp.
It is written with a wry sense of humour and a wonderful insight into Irish Catholic culture with more than a wink towards the eccentricities of a small village way of life as immortalised in such television series as Father Ted.
Played on Eileen Diss's atmospheric set with terrific attention to detail, such as peeling wallpaper, crucifix by the bed, container of holy water by the door, a kitchen with an Aga stove, Belfast sink and all the detritus of an Irish family, this is great farcical fun.
Patrick Lynch, impressively played by Douglas McFerran, is apparently lying on his deathbed. He has had a tumultuous depraved life and is administered by his steadfast maid Matty, a beautifully realised performance from Susan Stanley.
There is a hilarious running gag with a kettle and cups of teas that are not what they may at first appear—I'll not spoil it.
Michael Lumsden is the stalwart but corrupt Dr Soames who can't get to the bottom of Patrick's illness. "His condition is not listed in any of the medical books in Ireland."
As Father Ryan, Keiran Flynn brings a captivating quality to this larger than life character that is determined to hear Patrick's last confession before he administers the Last Rites.
Patrick is persuaded to leave this world with a clean slate and confess his misdemeanours to the folk he has sinned against.
The reluctant flock are gathered together and each one faces a startling revelation that just grows in comic humour.
His neighbour Sarah Bennet (Natalie Ogle) has been blighted by Patrick's malicious spreading of scandal and consequently remains a spinster.
Mrs P, the Protestant 'outsider' (Mary Keegan), brings a sense of tough reality to the proceedings, questioning the Catholic ethos and bringing much droll fun to the situation.
Then John Breen, an outstanding performance from Sean Baker, discovers that at least seven of his fourteen children were not his but in fact Patrick's with hilarious results.
All of these wrong doings are forgiven thanks to Father Ryan's insistence that, "Forgiveness is a great virtue".
But, when it is realised that Patrick is not in fact going to die, a devilish plot is hatched which leads to a conspiracy to plan his fake death.
What happens next is a rollercoaster ride of deception with Patrick arising from the dead and taking on the role of his estranged wife Bertha, who has immigrated to America.
You just have to enjoy this transformation—the audience hooted with laughter. All appears to go well until the real Bertha Lynch (Su Douglas) arrives from the States. To tell any more would spoil the fun.
Sarah Berger has done a sterling job in directing this play, keeping the pace flowing and creating a delightful enjoyable production that was hugely appreciated, judging by the enthusiastic applause from the audience. Do catch it.
Reviewer: Robin Strapp