Last Man Standing
James Wilton
James Wilton Dance
Grand Theatre, Blackpool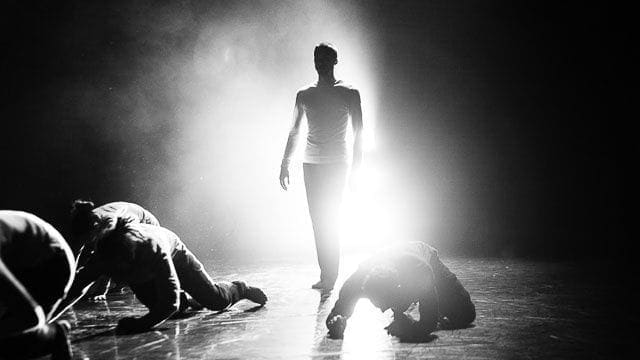 Just when you might reasonably have assumed it had all been 'said', as far as modern dance innovation is concerned, along comes a choreographer like James Wilton.
Still pretty well fresh from graduating from London Contemporary Dance School, in 2010, you might have expected him to still be making his name as a dancer, let alone become one of the country's rising young choreography stars.
Naturally there's a limit to just how many of them become household names, but on this totally absorbing showing of his latest work Wilton's is, at this stage, a name to remember.
Last Man Standing is a suite of eight dances for six performers—including its choreographer—ranged over two 35-minute acts. The theme is the fragile nature of existence and draws some influence from Terry Pratchett's Discworld novels and the Greek myth of Orpheus and Eurydice.
All of which may well be the case... but what is in no doubt is that it delivers a stunning visual and aural experience in its enthralling montage of modern dance.
It uses a vast language of choreography, involving the now-standard repertoire from break dancing and martial arts moves, but blends it all into a seamless production that returns again and again to the idea of human interdependence.
It uses the musical scope of American heavy rock band Tool to drive its narrative, and that is not all quite as pomp-rock obsessed as it may sound. There are quieter Eastern-influenced sections and one prolonged moment of absolute silence in which Sarah Jane Taylor folds her body into and out of intricate shaping.
There's even a repeated, and maybe unwitting, quenelle-like gesture—the kind that gets Premiership footballers sent off—before it develops into an arm-whirling dervish display.
An exquisite yet simple lighting design, by Mario Ilsanker, heightens the experience of a thoroughly-entertaining performance—and at odd moments even highlights the ornate rococo stage surrounds of this most elegant of theatres.
The venue is working hard to establish its dance centre credentials for the region and appreciative and gradually-growing audiences are getting used to being spoiled by work like this.
Reviewer: David Upton