The Last 5 Years
Jason Robert Brown
Tony Green and Dayle James Productions
Tabard Theatre
(2011)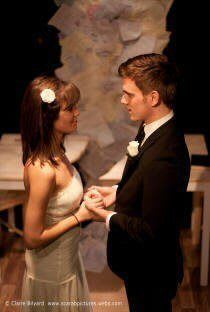 This isn't a musical with big spectacle and shining dance numbers. Instead of melodramatic plots and grandiose costumes, here we have a simpler affair: a couple's story, their five year relationship.
The Last 5 Years is a microcosm musical and it's very, very good with great music and winning performances.
Jamie and Cathy have been together for five years. They've got married, shared dreams and an apartment. Cathy hopes to become an actress while Jamie is on track to becoming a very successful author. They fight, they misunderstand each other.
But this musical is not really about 'will they stay together?' or 'how will they overcome their problems?' The plot isn't so much non-existent as unimportant. We know from the start that they separate because Cathy opens the show singing about their breakup.
And this is the main ploy of the show: both characters are on parallel timelines moving in different directions with Jamie at the beginning of the relationship moving forward and Cathy at the end moving back.
Only once does the couple sing together, when they cross paths at their wedding, and at all other points they have their dedicated side of the stage, going through their separate but inseparable story.
It's an ambitious approach, allowing this musical to pull every relationship stereotype in the book while still feeling fresh, and gives the relationship a more general tone without sacrificing its own idiosyncrasies and personality.
So while both sides are not shown quite equally - Jamie's side of the story is put across too callously - each are given their time and it means that the central question 'can two individuals be one?' can have a 'yes/no' answer without feeling cheap.
A sign of the show's success is that, at the end when Jamie leaves Cathy and when Cathy has returned to when she was first in love with Jamie, both moments can carry their own emotional weight yet effectively compound each other.
However, there is a fine line where this kind of structure can become alienating and there's a real risk here of simply confusing the audience.
This has been very much taken on board by the direction and the set design constantly reminds that this couple is connected while divided. Photographs appear and disappear depending on the timeline, the stage is divided on either side with a river of paper in the middle and the same bed has a half on either side of the theatre. Clothes and props change to fit the events, Cathy appearing on stage at one point in pig tails, hammering the changes home.
The direction is consequently a little on the defensive, guarding against misunderstanding, and comes to shine more in the set pieces - Cathy's auditions are one of the funniest moments of the night - than in the greater whole.
That said, the intense pacing - this is 90-minutes-no-interval of just songs - means that even without 'getting it' you can just sit back and enjoy the ride. The only moment where the rhythm really falters are two scenes by Jamie where he reads his own work. The lacklustre writing at these points and his all too sincere tone do not really make up for the change in pace.
What makes this musical work overall is that it's not trying to be too clever to be enjoyable. The songs are genuinely good, with a number of memorable tunes, and the singing is great. There is a nice mix of emotional and lighter numbers, which play around well with jazz and country styles.
Lauren Samuels as Cathy has an incredibly warm voice and when Christopher Pym, Jamie, hits the note it fills the room. That said, Christopher is the weaker of the pair, needing more time to hit his stride.
Light while retaining depth, The Last 5 Years is a compelling musical that never sacrifices its songs to its structure and is deeply enjoyable.
"The Last 5 Years" is playing at the Tabard Theatre until the 5th of March 2011
Reviewer: Tobias Chapple