The Last Cigarette
Adapted by Hugh Whitemore from The Smoking Diaries by Simon Gray
Minerva Theatre, Chichester
(2009)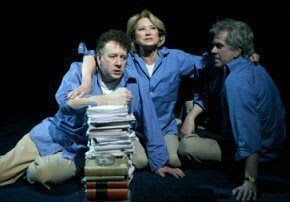 A haze of cigarette smoke hangs over the Minerva as Simon Gray is posthumously allowed one last puff, courtesy of his great friend Hugh Whitemore and the three brilliant actors who simultaneously assume his identity.
Gray was dying of lung cancer when he collaborated in the adaptation of his diaries, but even this failed to stop his sixty cigarettes a day habit, although he did manage to cut down on the daily four bottles of champagne. He died last summer, in an ironic twist of fate which would have amused him, of an aneurysm.
Hardly a cheerful and uplifting subject to begin the 2009 Festival season, and yet he wrote his diaries with such wit, such humour and such warmth, mixed in with the pathos and pain, that it becomes an entertaining, funny, sad, and happy mixture of memories, musings and reminiscences, rambling through his life with humorous anecdotes and comical observations
It was Whitemore's idea to have three Simons, one a woman, presumably to show all the different facets of the man's character, and it works surprisingly well as they each take up the story, toss it around a little, and change their approach and personae constantly, sometimes taking on the other characters in the stories.
These cover most of his life from a boyhood with grandparents in Montreal, through the birth and tragic death of a beloved younger brother, the death of both parents from the dreaded lung cancer, his friendship with Harold Pinter, and his first botched attempts at sex – a first at the age of twenty five - but it is in act two with news of the horrifying diagnosis that the tale becomes even more alive. Fighting with himself in furious rage at the fate which will soon take his life, this changes to grateful joy on discovering that he has "two whole years" - maybe!
Felicity Kendal, diminutive and feminine, still manages to convey the essence of Gray – especially when a young boy – but impressed most with her interpretation of the feminine roles: wife, mother, and particularly a Bajan nurse, an aspiring writer who is much more interested in her novel than in removing Gray's catheter.
Jasper Britton takes the part of a hospitalised Simon, his quizzical expressions and Gray's comical observations of the doctors bringing laughter where you would least expect it, and Nicholas Le Prevost gives hilarious interpretations of 'a doctor who looks like a chipmunk', a self-satisfied Welsh surgeon, and even a beautiful Indian doctor who glides through the ward on long elegant legs to comment that he smells of urine.
Richard Eyre's pacey direction ensures that performers never flag for an instant, the actors speaking with almost breathless urgency as if anxious to record all the thoughts and anecdotes of Gray's life before it's too late.
The superb portrayal by these three excellent actors is a fitting tribute to a man who refused to change his lifestyle, even in the face of death and is, after all, a first-class beginning for the Festival Season.
Running until 11th April
Philip Fisher reviewed the Trafalgar Studios transfer
Reviewer: Sheila Connor