Laurel and Hardy
Tom McGrath
The Watermill Theatre
The Watermill Theatre Newbury
–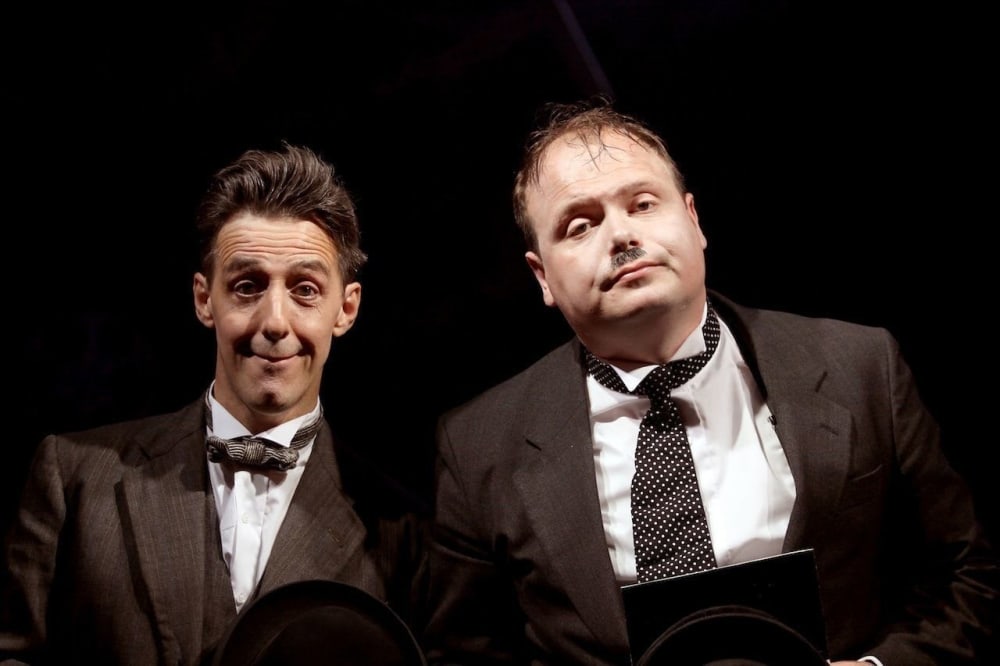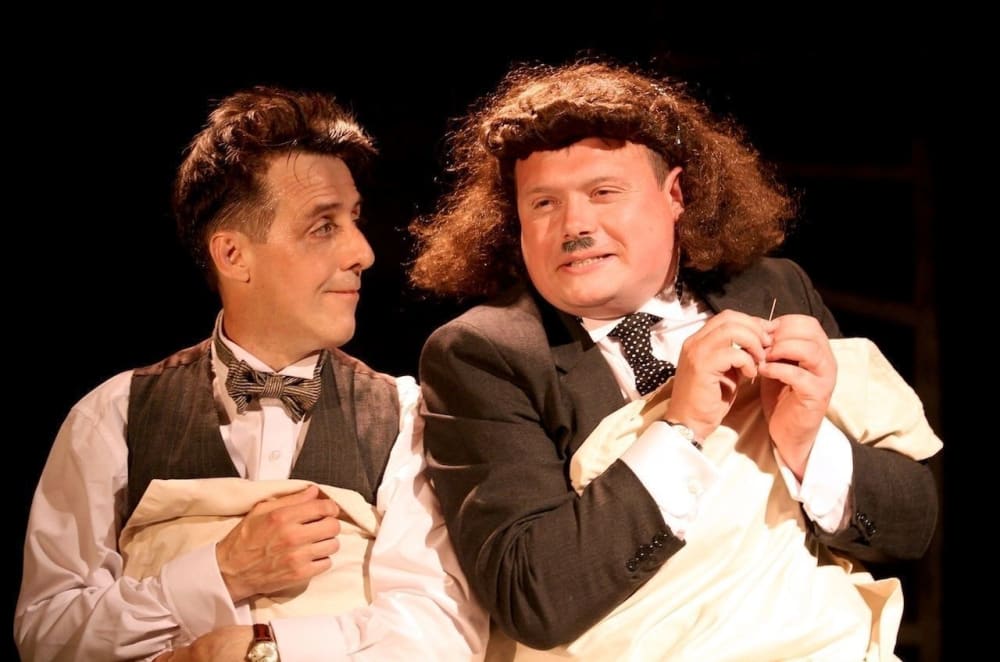 The Watermill Theatre's production of Laurel and Hardy is an absolute delight. Written by Tom McGrath in 1976, this bittersweet, moving tale of the rise of two of cinema's iconic comedians, Laurel and Hardy, is lovingly brought to the stage.
Paul Bigley playing Stan Laurel and Gavin Spokes as Oliver Hardy are consummate performers who bear an uncanny likeness to the famous couple and excel in their honest and sincere interpretations of this famous double act as they perfectly capture the essence of these two characters.
We discover them suspended in limbo after they have both died with only each other for comfort. They have a need to retell their personal story that reveals much of their particular journey through a rollercoaster life.
Much is revealed about their humble beginnings with Hardy coming from the Deep South in America and Laurel hailing from the north of England.
Laura McEwen's impressive, evocative set in black and grey suggests the heydays of Hollywood, from the height of the silent movies to the introduction of sound onto the silver screen, which overtook the early music halls and vaudeville.
Interspersed into this biographical story are some glorious classic sketches that the comic duo performed. They instantly brought back memories, with the stepladder routine with Ollie continually catching his fingers and the hilarious wallpaper slapstick skit with perfect comic timing.
There's a host of famous one-liners such as Hardy asking Laurel who was on the 'phone and Laurel replies, "It was someone saying it's a long distance from Atlanta Georgia, so I said it sure is," then he hangs up.
There are also many songs that helped to further their careers including "The Lonesome Pine" and "Shine on Harvest Moon", beautifully sung, and some scintillating dance routines that perfectly create the era.
Bigley and Stokes also play myriad characters that influenced their lives from parents, friends and wives; they had six between them with Stan marrying the same woman twice.
They made over 40 films in the course of ten years working for the impresario and producer Hal Roach who controlled their output. Stan felt that Roach was stifling their potential and eventually they parted company with the studio, but this was to prove a huge mistake and their popularity began to wane.
Paul Foster directs with panache and it is sensitively lit by Richard Howell. Richard Sisson on piano has composed some fine accompanying music that is in keeping with the period and adds to the action.
This is an outstanding production and is the ideal summer treat. Not to be missed.
Reviewer: Robin Strapp