Lavender Junction
Lisa White
Peppermint Muse
C nova
–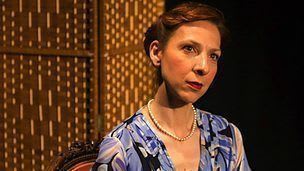 Lavender Junction is a poignant tale of childhood, schooldays and love at first sight through the eyes of a woman who grew up in colonial India.
Written and performed by Lisa White, this elegant monologue is simple in its style but vivid in its description. There are scenes depicting the hierarchy of the house and a clear picture is painted of the English family's social standing with so many servants but very little love.
The detailed observations evoke images from old films as the time period appears to be one of great glamour even if it is all for show.
Her reminiscences of her convent schooldays give an inkling of the confident woman she later became and it is therefore no surprise when she describes her decision to become a nurse rather than sit and home and wait for a husband.
The theme of modernisation runs subtly through the piece from both a political and social point of view as the 'old ways' begin to crumble helped in no small part due to the outbreak of war. This forward-thinking woman served in field hospitals and it was at the end of one long night shift that she met the man she would later marry.
The piece is engaging, comical in places but also pragmatic; the character doesn't romanticise the past but rather recalls it with fondness and with fact. White is firmly in control and weaves through the tale changing pace, mood and tone with ease.
This connection with the material is not only due to her talent as an actress however; the memories are those of her grandmother who really did live through the period and love all her life.
Poignant yes, but also uplifting, Lavender Junction gives a glimpse into an era that can never be recreated.
Reviewer: Amy Yorston