La Voix Humaine
Francis Poulenc, libretto by Jean Cocteau (English translation by Richard Stokes)
Opera North
Grand Theatre, Leeds
(2006)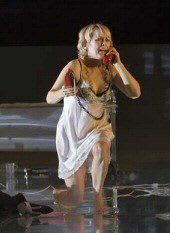 Opera North's 1993 Wozzeck was director Deborah Warner's first opera production. Thirteen years later, and almost a decade since plans for a return with La Voix Humaine were first discussed, Warner's production of Poulenc's one-act, one-woman opera has finally reached the stage - and to say it was well worth the wait would be a gross understatement.
Jean Cocteau's play La Voix Humaine, first performed in 1930, was the basis for his 1958 collaboration with Poulenc. A nameless Woman, alone in her Paris apartment, tries to conduct a long telephone conversation with her nameless and unheard ex-lover. A storm rages outside and the couple are constantly cut off and interrupted. At first the Woman seems resigned to the end of their five-year affair and agrees to return his letters, but as she becomes increasingly distraught her façade of normality crumbles. She tells him that she tried to kill herself but was saved by the timely intervention of a friend (Warner has a much nastier suicide bid take place on stage, with the Woman vomiting a handful of pills into a bidet).
We never find out what led to the break-up, but there's more than a hint of masochism in the Woman's behaviour. At one point she makes as if to strangle herself with the telephone cord, telling her lover that she can feel his voice round her neck, and at the end of Warner's production the Woman - still murmuring "Je t'aime" to the receiver - slashes her arms with a razor taken from a dainty pink envelope. Cruelly rejected mistress or willing victim? This ambiguous and disturbing work offers no easy answers.
Cocteau himself described La Voix Humaine as "this little opera which had become a very great tragedy thanks to Poulenc". Although the work is only 45 minutes long it packs the emotional punch of many a full-length opera; the only "little" thing about La Voix Humaine is the size of the cast, and it takes a true singing actress to do justice to the role of the Woman. Joan Rodgers dominates both the orchestra (conducted by Paul Watkins) and the Grand Theatre's large stage with complete confidence. Every word of Richard Stokes' excellent English translation comes across as clear as a bell, and her portrayal of the Woman's emotional disintegration is harrowing to watch.
Tom Pye's set, a bedroom/bathroom littered with clothes and papers, combines with Jean Kalman's highly dramatic lighting to provide an unsettling fusion of the domestic and the sinister. Pye and Joel Cahen are credited with video design, but little use is made of the large projection screen which looms over the Woman's bed - not that the opera needs any hi-tech distractions!
With its brief running time, accessible story and Joan Rodgers' mesmerising performance, this La Voix Humaine is an ideal introduction to twentieth century opera. One hopes that Opera North's forthcoming four-venue tour will encourage a new generation of music-lovers to sample the delights of Poulenc and Cocteau's masterpiece.
At the Lowry, Salford Quays - 10th November
At the Theatre Royal, Nottingham - 15th November
At Sadler's Wells, London - 22nd and 24th November
At the Theatre Royal, Newcastle - 30th November
Peter Lathan reviewed this production at Newcastle
Reviewer: J. D. Atkinson