Lay Up Your Ends
Martin Lynch
Charabanc
Grand Opera House, Belfast, and touring
(2009)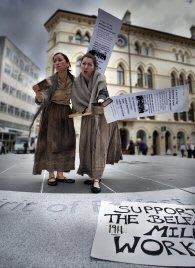 Theatre in and from Belfast is, in August 2009, looking backwards, not forwards. That comedy of terrors, tyro playwright 'Beano' Niblock's A Reason to Believe, a rose- and indeed Orange-tinted take on larks in Her Majesty's Long Kesh prison during the 'Troubles' is playing community arts centres across the city.
Martin Lynch, a much more experienced dramatist, is sending his own previous diverting musical intervention, his well-aired Chronicles of Long Kesh, off to the Edinburgh Fringe.
And Belfast's Grand Opera House, as it says farewell to Manager John Botteley, has revived Lay Up Your Ends, a once impassioned docu-drama, written a quarter of a century ago by Lynch and the members of the then new all-women Charabanc Theatre Company and which was premiered to astounded acclaim in the now dark Belfast Civic Arts Theatre.
That theatre, on Botanic Avenue, a tree-lined, off-campus bohemian thoroughfare deemed Belfast's 'Boul Mich' by none other than Nobel Laureate poet Seamus Heaney, was then at its cutting-edge best.
The entertainment's spur was the women linen millworkers strike of 1911, a protest born of the ever increasing contrast between the city's industrial pride in its production of the world's most coveted high-end linen and the appalling poverty, illness-inducing poor housing and draconian working conditions of those who spun the thread and wove the damask.
A 6-day a week 12 hour day earned a skilled woman 9 shillings, while an unskilled man took home 23 shillings. A loaf of bread cost 2 pennies, a pint of milk 1p. But the 'Crowned Heads of Europe' dined off Belfast linen tablecloths.
Though the withdrawal of labour began in one mill it spread to others, encouraged by the compelling oratory of the Dublin-based Scot James Connolly and the financial support of his Irish Transport Workers Union while the women's own supine representatives of the Textile Operatives Society were less than supportive.
On its opening, Charabanc's fiery production, with its mixing of socialist feminist anger, raw street humour and bawdy mill songs drawn from interviews, Lay Up Your Ends as directed by Pam Brighton, electrified first Belfast and London then, on its Soviet tour, three Russian cities.
But now, with Marie Jones, 25 years on, again playing her original tough-nut foul-mouthed Bell, and Marie's husband and Charabanc Board member Ian McElhinney directing, the work's age is all too overexposed in this overblown production which both lacks confidence in the strength of the original and which also takes its style more from Andrew Lloyd Webber's musical theatre than from its agitprop origins.
Against David Craig's cruelly expansive dirty factory wall, the miked yet indistinctly dictioned opening chorus, missed out on an intimacy which could never be redeemed. For though Kate Tumelty's skeletally scrounging Ethna, Tara Lynne O'Neill's statuesque and cautiously sensible Lizzie, Antoinette O'Neill's tower-of-strength Florrie and Pauline Hutton's pretty Mary, all work their picaresque rags off, the director's decision to inflate the original proves to have set an impossible hurdle. "Les O'Miserables it ain't," whispered a fan, sadly.
Indeed, it is only late in the second act, particularly in the worn-out intimacy of - coincidentally - the charabanc ride, that the unique quality of Charabanc's passion survives. A riffle through the pages of the Lagan Press's published copy of the text may revive faith in the disappointed.
The still constant Martin Lynch, was however not to be trumped on opening night. At the curtain, when he asked two other members of the original cast, Brenda Winter and Carol Scanlan Moore, plus a group of former mill workers, one his cousin and others well into their 90s, to join him on stage, they brought the audience to their feet, just as Charabanc used to, all those years ago.
Grand Opera House Belfast till August 15th, then touring including Omagh's Strule Arts Centre 18th, Enniskillen' Ardhowen Theatre 19th, Londonderry's Millennium Forum 22nd
Reviewer: Ian Hill