Le Corsaire

English National Ballet
Palace Theatre, Manchester
–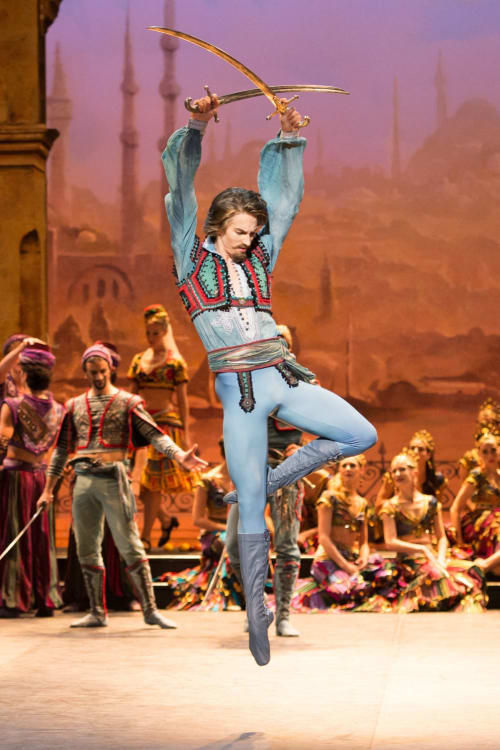 Forget any notions of TV's latest reality series, this is real Big Ballet.
From the vast backdrops created by Hollywood set designer Bob Ringwood, right down to the intricate detailing of choreographer Anna-Marie Holmes's staging, this English National Ballet production of Le Corsaire is also more opulent than a banker's bonus.
It's also easy to see why it does not feature among the classical repertoire as often as it should, setting such great demands upon both a company and individual dancers. In that way it also shares many stylistic flourishes, as well as intricate stage tableaux, with La Bayadere, another production best reserved for only the most competent.
Le Corsaire may be gloriously old-fashioned, but it's danced here with such youthful verve that you can even overlook the animated garden dream sequence that tends to slow the story down in act three.
It's based on Byron's poem, and wraps itself up in yards of muslin with slave girls, pirates, and even a sinking ship finale that shows just how much effect can still be achieved with conventional stage gauzes.
Ringwood's three-dimensional set designs locate the lavish tone to a romantic notion of the mysterious East while Neil Austin's dramatic lighting ensures the dancing is never overwhelmed in such surrounds. And the first act here must be one of the most egalitarian in ballet, with a host of principals and soloists enjoying their time in the spotlight.
On opening night the audience were maybe over-eager in applauding every dance episode, but then frankly this is that kind of performance.
With nine composers credited, the opening music does suggest a committee at work, but for the stunning setpieces of act two it achieves a suitably lush Byronic stature.
Perfect for the focus on Daria Klimentova and Vadim Muntagirov dancing the lead roles, as well as for junior soloist Junor Souza adding to his legion of young fans, as Ali.
Reviewer: David Upton