Le Nozze di Figaro
Wolfgang Amadeus Mozart, Lorenzo Da Ponte
Theater an der Wien, Austria
Released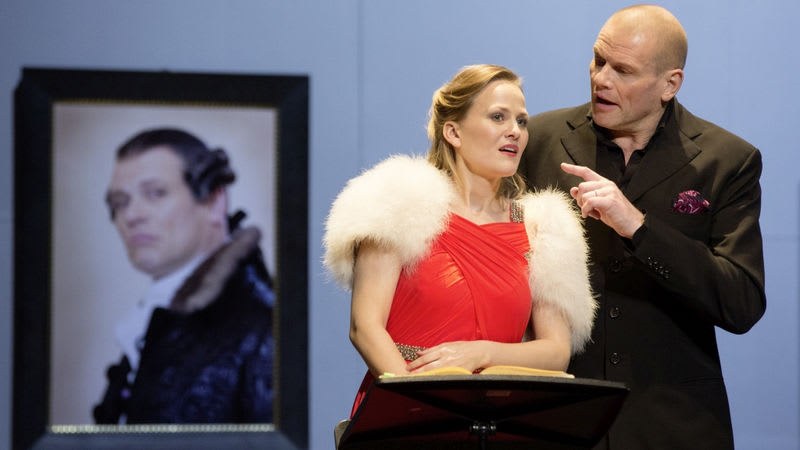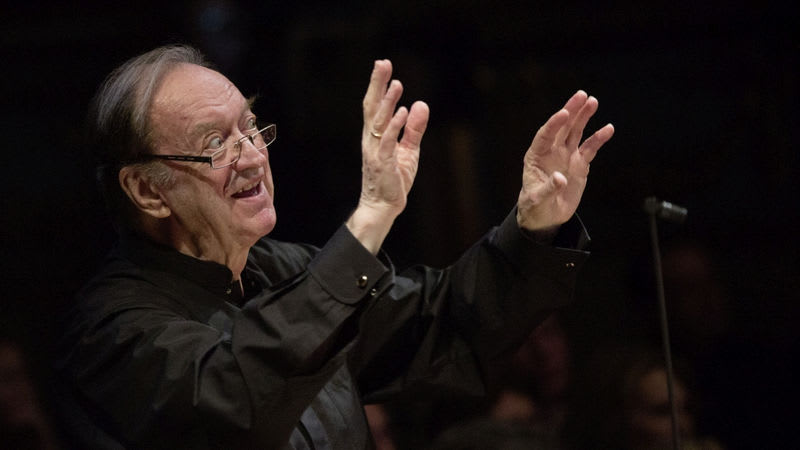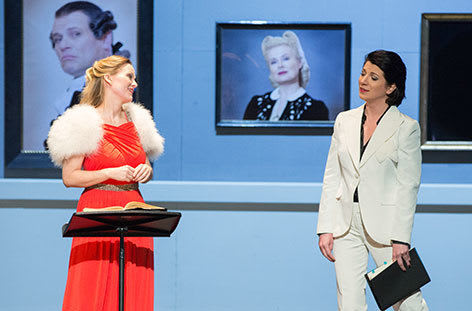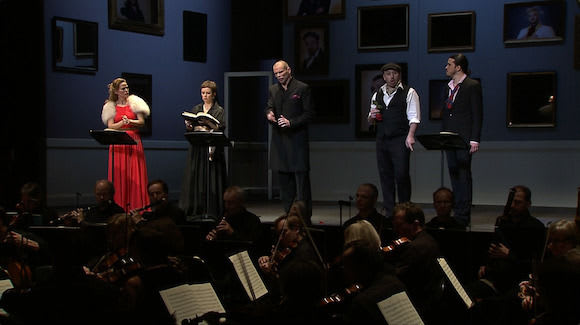 Veteran conductor and Mozart interpreter Nikolaus Harnoncourt dictates what may be his final testament in this the first of his cycle of all three Mozart / Da Ponte operas, presented in Vienna in 2014.
He chose to offer them in concert performances, with similar casts and a common backdrop of portraits, and without a director to get in the way of his purpose, which is to force one to listen and pick out the nuances of the music and text that might otherwise be missed.
In particular, he is concerned with the delivery of recitative, which he insists should be uttered rather like natural speech, overriding the authority of rhythm or even pitch on the page. Harnoncourt cites historical evidence for his thesis, hinting in the accompanying documentary that he is right and most other people wrong—including his younger self. I'll leave that for musicologists to debate.
At its most effective, his musical approach works well with those performers able to enjoy the freedom allowed by the conductor, but with the confidence to resist an over-zealousness that can lead to excess.
Bo Skovhus is outstanding in this regard as Almaviva, modulating tone, accents and manner to suit the peremptory, angry or imploring moods of this fickle aristocrat. Andrè Schuen—who played the title role in the Don Giovanni that followed—is an authoritative Figaro, relishing the chance to pay back his employer in "Se vuol ballare" sung in a manner quite different from that of the supposed cuckold in "Aprite un po' quegl'occhi".
The influence of Harnoncourt encouraging his singers to vary their registers of voice is again evident in the excellent Elisabeth Kulman's Cherubino, sometimes adolescent boy, sometimes a gruffly grown-up, proto-Don Giovanni. As a result, her sigh to be in Susanna's place, dressing and undressing the countess, produced more laughs than in many a full production.
As Susanna, Mari Eriksmoen seems fully at home with this flexible approach, caressing the melody of her arias, but acting in an animated way that rather shows up the limitations of the staging.
Ildikó Raimondi is an unusually attractive and sympathetic Marcellina, Peter Kálmán a convincing Bartolo / Antonio and Mauro Peter a supporting Basilio, doubling as a stuttering Don Curzio.
Christina Schäfer, as the Countess, was reportedly suffering from an ear infection at the time, which may have caused some uncertain intonation. Her voice sounded frail and, although the phrasing was immaculate, she seemed ill-at-ease. Several of the cast carried scores—Skovhus, Raimondi and Kálmán notable exceptions—but Schäfer consulted hers throughout, more one supposes for maestro Harnoncourt's detailed instructions than for the actual notation.
Some other aspects of the production may raise eyebrows, such as the conductor's slow tempi. It's easy to accept Cherubino's "Voi che sapete" being turned into a smaltzy smooch, but the act 3 knockabout meet-the-parents routine seems diminished. Nor is the pace of the action helped by the inclusion of two late, pleasant but irrelevant arias by Marcellina (the billy and the nanny-goat) and Basilio.
The overture has set the tone at the outset, not for light-hearted comedy, but what Harnoncourt interprets as a sad tale about rather dislikeable people with few redeeming virtues. He even goes so far as to ask Christina Gansch to sing Barbarina's aria about a lost 'pin' so mournfully as if it were a lament for losing her virginity to the count.
The soft strings of Concentus Musicus Wien sound lovely, but the latitude of expression can get out of hand, as at the start of act 2 when the exaggerated variations in recitative sound bizarre. The greatest weakness, however, of this bold and not entirely unsuccessful venture is its most obvious.
The concert format makes it hard to understand what is going on. While one-to-one exchanges can be highly effective, such as that between the Count and Susanna, there is less interaction between performers—except with Harnoncourt himself, his intensity well caught on camera.
The confusion of Cherubino and Susanna discovered in the Countess's bedroom falls flat, and I would challenge anyone who does not know the opera well to figure out events in the garden of mistaken identities. For Figaro to sing the militaristic "No piu andrai" addressed to the recently enlisted Cherubino to an empty stage makes no sense, and no decent director would dress the countess more dowdily than her servants.
As in Harnoncourt's Don Giovanni, the most fascinating part of the double DVD package is in the 51-minute documentary recording a rehearsal at the composer's home. Opera lovers who know the work well may find this and the performance enlightening and rewarding. Having watched it, I doubt many will play it again in preference to one of the many first-class, fully-staged versions available.
Reviewer: Colin Davison