Le Nozze di Figaro
Wolfgang Amadeus Mozart, Libretto by Lorenzo Da Ponte after Beaumarchais
Théâtre de l'Archevêché
Festival Aix-en-Provence 2021
–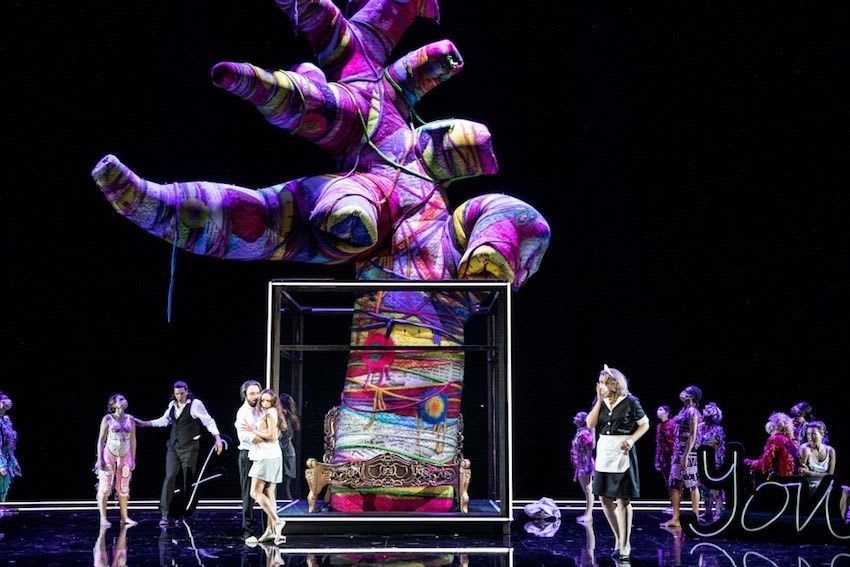 Beaumarchais's The Marriage of Figaro, probably the best French bedroom farce outside of Georges Feydeau, premièred in 1778. Mozart's opera, which premièred in 1786, does not have the bite of the original, because Lorenzo Da Ponte, his librettist, removed all the subversive bits. Not for the first time have I been watching the opera and wishing I was watching the play King Louis XVI banned and hearing Figaro's great monologue.
I had been looked forward to a critique of class and gender being brought up to date; but the updating here ruins everything. Lotte de Beer's production for the 2021 Aix-en-Provence Festival gets off to an irritating start with her presumption the audience doesn't really want to listen the overture, conducted by Thomas Henzelbroek, and therefore employs a seemingly amateur commedia dell'arte troupe to do some unfunny mime throughout it.
Things do not get better once we are into the performance proper. There are two flashing neon signs (APPLAUSE and LAUGHTER) but there is very little to applaud and, as to the humour, it is crude and often vulgar. The singers act as if they are in a bad TV sitcom from the 1970s.
Almaviva says he is giving up his droit de seigneur rights directly to the paparazzi cameras. Susanna, the chambermaid he fancies, puts a lampshade over her head to hide herself from everybody's view. Cherubino is such a randy teenager that he has a whopping erection, the sort of joke you might find in The Inbetweeners.
The final act is acted in a completely different key. There is no garden, no arbours to hide in; only a big glass box. LOVE IF YOU CAN is spelled out in large letters which stand on the stage. The farce and the disguises fail to amuse; largely because it is difficult to know what is going on. Figaro (Andrè Schuen) and Almaviva (Gyula Orendt) strip to their underwear.
There is so much knitting on stage that I half expected a guillotine to appear. Instead, there was an enormous growing totem pole thingy with numerous penises. Jacqueline Wagner as the Countess and Julie Fuchs as Susanna have their moments; but the darker melancholy side of the opera, which humanises the farce, is not there.
Mozart and Rossini have such a hold on the public that it will be difficult to find somebody brave enough to revive the Beaumarchais Figaro trilogy (The Barber of Seville, The Marriage of Figaro and The Guilty Mother) as an actual trilogy. But it could be worth a try.
Le Nozze di Figaro can be watched on the Arte TV channel.
Reviewer: Robert Tanitch