Lear
William Shakespeare
Union Theatre
–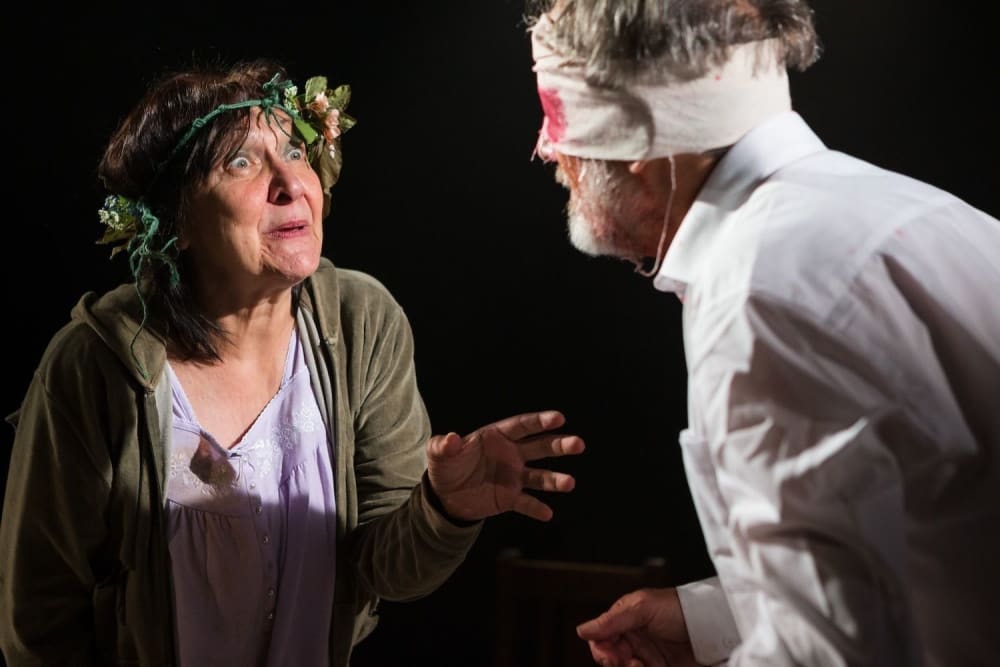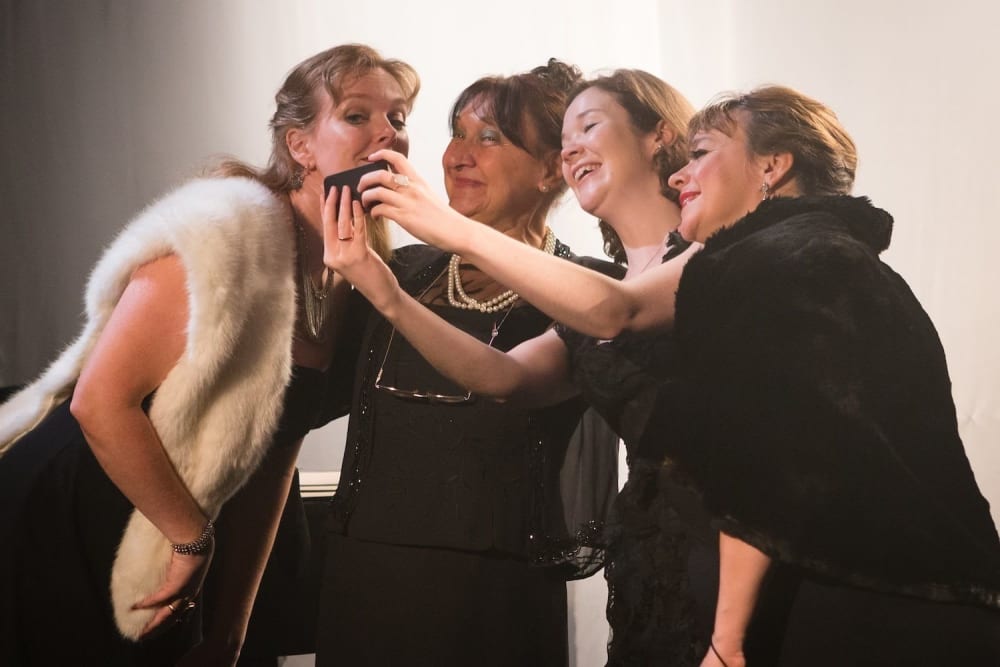 Director Phil Willmott was thinking about an actor to play King Lear and the one he came up with turned out to be a woman, one with whom he had worked on many other productions: Ursula Mohan. Not so surprising you may think, in these days of cross-gender casting; but that is not how he handles it. This Lear is female; Miss Mohan is Queen Lear.
Does that shift the balance in this tragic story of a monarch who resigns a kingdom planning to divide it among three daughters? Does it make a difference that it is now a mother who cuts that down to two, disinheriting the youngest, formerly her favourite, who will not declare her unreserved love for her but saves some for her husband?
Perhaps the change of gender makes what happens seem even crueller. This is a tale of ingratitude and advancing madness, deceit and vicious violence that is unsparing. Some productions in recent years have found leavenings of humour, but there is little sign of it in this mainly promenade presentation which is played among the audience in modern dress in a mist-filled space with the minimum of furniture.
The text has been quite heavily cut, but the verse is spoken naturally and fluently bringing out the sense. The character of Kent is excised completely with some of his necessary dialogue given to a character identified as the Queen's doctor. The Fool, though still referred to as such, has become the Queen's nurse. This is a Lear whose condition has been medically recognized and is on medication to maintain mental balance. Her abdication is timely, her mood swings are sudden. It is a reading that fits.
This is a woman at least partly aware of her own condition. Lear's own fear of madness is very present. The production opens with youngest daughter Cordelia playing the piano, her mother lovingly beside her, entertaining those gathered to hear the announcement of the royal abdication. (The opening scene with Gloucester has been moved later.) But this loving mother—and having just refused her medication hasn't helped—can suddenly turn nasty.
Modern dress implies modern knowledge of Alzheimer's and other disorders that should bring greater understanding, so this emphasises the deliberate cruelty of daughters Goneril and Regan which Claire Jeater and Felicity Duncan first mask with smiles.
I couldn't quite believe that Goneril was a princess who would put on the Marigolds and do the cleaning, but, whilst the promenade proximities made for naturalness, Willmott uses a number of less than logical images to theatrical effect and this pose of wifely domesticity is in contrast to quickly snatched marital infidelity with the staff.
Miss Mohan's Lear is a well thought out and sustained performance that gains sympathy because this Queen can't help her behaviour; she is not just a difficult, selfish and cantankerous senior. Perhaps there is also extra sympathy because she is a woman and that certainly gives a darker depth to her cursing of her daughters.
Daisy Ward's Cordelia gives you some idea of what her mother may have been like when younger. Fair dealing and loyal she may be, but, when she lashes her sisters for their falsity, she snarls just like her mother.
Richard Derrington's upright and well-meaning Gloucester is also showing some of the weaknesses of age. This is a production that makes you notice the similarity between the Duke and his Queen. It draws a marked contrast between his sons: on the one hand, Tom Maccarron's Edgar, a naive introverted gymnast who turns to shooting-up when forced on the run, and Rikki Lawton's Edmund, who hides his scheming behind populist charm and bonhomie.
A storm scene lit by torches emphasises disorder with Lear almost a bag lady. Joseph Taylor's gently caring Fool is still in attendance. Willmott doesn't explain why he disappears then but does give us his hanging.
Played promenade until after Gloucester's blinding, the play's latter scenes have the audience separated and seated. This reduces the intensity of the production and I found them by comparison distant, but overall this is an imaginative and engaging presentation.
As another well-satisfied member of the audience mentioned, though this is often thought a difficult play, Willmott has made it easy to understand and follow. It would be an excellent introduction to Shakespeare for a youngster and regular Shakespeare fans will find it refreshingly different.
Reviewer: Howard Loxton