Leaves on a Line
Dinos Aristidou
Forest Forge
Salisbury Playhouse
–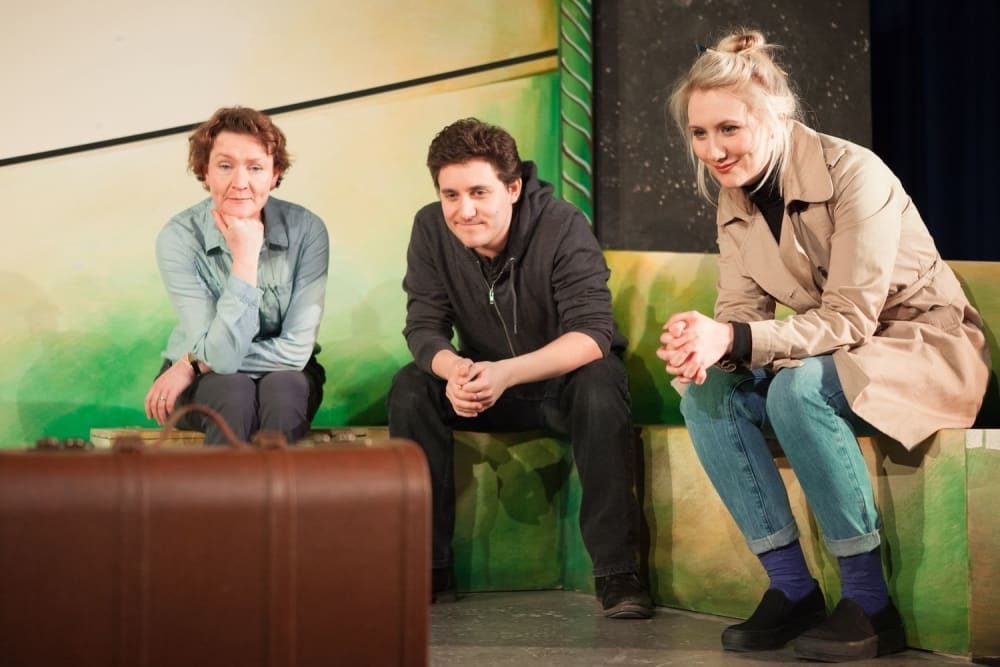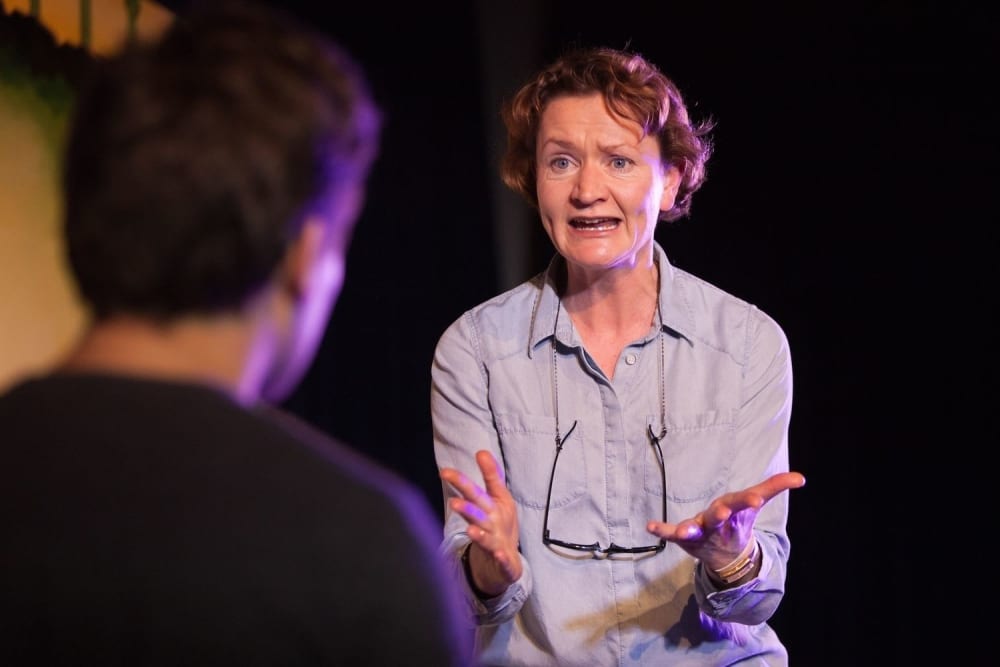 Since they started out thirty four years ago with—so it's rumoured—props, scenery and costumes having to be stored in the artistic director's mum's garage for lack of more suitable facilities, Forest Forge has forged ahead, establishing a reputation which makes every new production an unmissable date in the diary. (Did they really perform A Midsummer Night's Dream to schools with just four actors all those years ago? Now that really was fun!)
And they don't make things easy for themselves, artistic director Kirstie Davies, manager Gale Gould and their team. It's not just productions, but they also have a thriving youth theatre and drama group for under-twenty-ones and a lovely mixed group called Act Your Age. There's no upper age limit to this one.
Tonight's production is Dinos Aristidou's Leaves on a Line, an intriguing title for a double bill, two plays involving the same characters, the same setting—a railway station, location not specified—and the same theme, the people they meet, the effects of change and time on their relationships, greetings and farewells, regrets perhaps—in fact all those things that make journeys by rail, the line of the track, analogous to life itself.
We're in the Playhouse's studio theatre, the Salberg, where they've recently upped their technology to accommodate an enormous, stage-size screen. There's an impatient steam train huffing its way across the audience's vision with appropriate sound effects and a young man, Tom (Ed Sheridan, who plays all four of the other male parts, including his father) is organising his model railway.
His mother Liz (Madeline Brolly) is the stationmaster / mistress and an acknowledged authority on all things to do with the railway system, its functions and its history. As Tom happily acknowledges, "Mum and Dad have placed the wholeworld at my feet".
A busy, happy though, on the surface, a somewhat obsessive family then, with nothing to disturb the gentle passage of their lives except one thing, a letter, addressed to someone unfamiliar and causing Liz to experience unusual agitation.
The first play (Found) takes place in 2015, the second (Lost), intriguingly, twenty-one years earlier. Kat (Leonie Spilsbury), an artist, by coming to the station, revives terrible memories for Liz, in articular, and heartbreaking revelations for Tom.
We care about these characters and will go on caring for them long after the cast has taken its final curtain call—which is always the sign of a successful production, isn't it?
But don't we also feel a bit nostalgic about the decline of the steam trains too? Those stirring songs which drove the narrative (yes, these actors are all skilful singers and musicians as well), they meant something, didn't they? However we feel about the future of the railways, we wish those in our south-western patch good fortune. They're important.
So well done, Forest Forge, for reminding us of this. You certainly forged strong emotional links with this audience tonight at the Playhouse and we'll be here for sure next time you come.
Only if—as you probably deserve—invitations come flocking in from London and elsewhere, remember us in the south west. You wouldn't desert us, would you? You'd be much missed.
Reviewer: Anne Hill