Leaving Vietnam
Richard Vergette
theSpace @ Surgeons Hall
–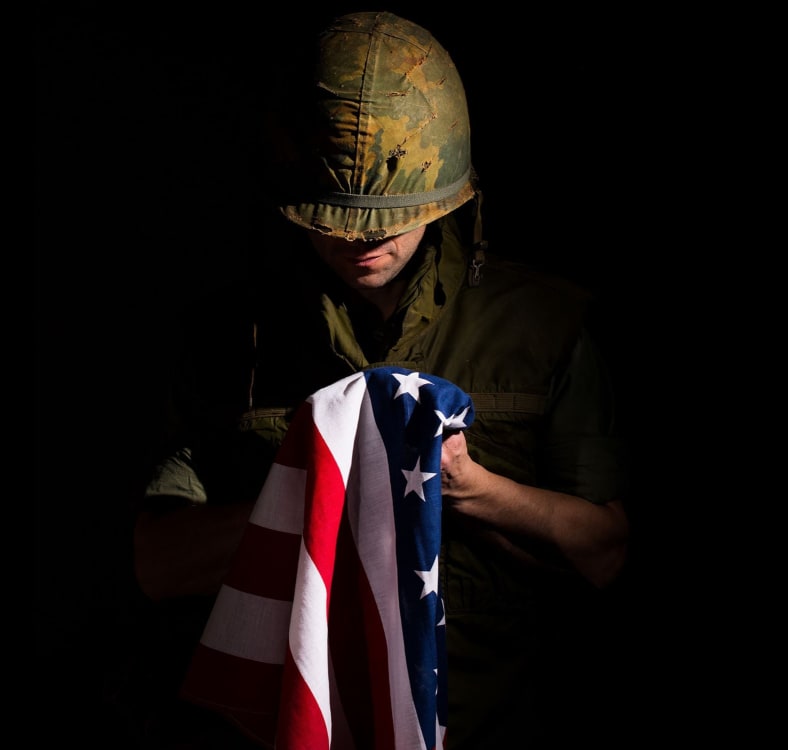 I first saw Richard Vergette appear solo on stage at Manchester's much-missed 24:7 Theatre Festival back in 2007 with An Englishman's Home, which stood out that year for its incisive writing on a sensitive political subject. Since then, he has written a few other plays, one which made a brief visit to the West End, but this is the first time he has performed his own work for some time.
Vergette is Jimmy Vandenburg of Jimmy's Classic Car Maintenance, a business he set up after years working for Ford Motor Company after he had served in Vietnam as a Marine. He has never spoken about his war experiences since returning home and has avoided reunions but echoes the words from "Bui Doi" in Miss Saigon: "you never leave Vietnam."
But he does return there for our benefit, describing what it was like raiding villages to look for Viet Cong fighters, getting ambushed on the way to rescue other ambushed soldiers, and finally to see the person who was the closest he had to a friend out there, Jesus Alvarado, killed in front of him.
After the way the war ended, even a soldier decorated for bravery like Jimmy was a bit of an embarrassment back home, and the press treated them like villains. He agreed that the people they were fighting had the right to defend their land as "we had no right to be there", but the same logic leads him to don a Trump MAGA hat. That's the one part that intrigued me but which I would have liked to have seen explained a bit more clearly as it seemed a bit of a leap.
That hat, however, drove a wedge between Jimmy and his wife, Bernice—something is subtly revealed about her that you may guess from her name but which perhaps stops Jimmy from conforming to all of the Trump supporter stereotypes.
But then Alvarado's son tracks him down and persuades him to visit the memorial in Washington DC to those lost in Vietnam, and it turns out to be a moment of enlightenment for him.
Jimmy leaves us with the thought that if you put a man in uniform and make him wonder why he was there, you spit on him. There will be a few people who left Afghanistan last year who may see the truth in that, and perhaps some Russian soldiers will be thinking it soon, if not already.
While I would like to have seen some of the political journey of Jimmy explained in more detail, and we don't learn anything about the Vietnam War that we haven't heard a million times before, this is still an intriguing and intelligent insight into the thoughts of someone—one of a great many—who was there but hasn't appeared on a monument, written books about it or displayed his sorrow in public but who has never left Vietnam behind, even after half a century.
Reviewer: David Chadderton