Led Easy
David Watson
Cardboard Citizens
Toynbee Hall Studios and touring homeless hostels
(2009)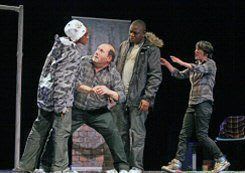 This is not one but three short plays that Cardboard Citizens tour around the country to homeless hostels and day centres. Together they run about an hour but there is much more than that to this carefully structured programme. Each of the three plays presents the story of a different individual, a story like those of the people who are their audience, a story about the kinds of things that happen that cause the problems which end up with people becoming homeless.
The first play, which provides the title for the trilogy, is about young graffiti artist Leo, nickname Da Vinci. He is a gentle soul who, since primary school, has been under the influence of his irresponsible street-wise mate Switchy, who promises excitement. From throwing fireworks and bunking off school it escalates to Switchy killing his dog and putting the blame on Leo who gets thrown out by the parents who never listen to him.
The second play takes Emma, a recently graduated young woman volunteer who 'wants to make a difference' and shows her inept intervention in a hostel, especially regarding a Polish resident, where her idealism is no match for the bureaucracy and cynicism around her.
The third looks at the life of older woman Eve, just out of prison. She's been into drink and drugs and had her baby taken from her, but now wants to stay clean. Her baby is now grown up and married and her husband makes contact. She wants to see her daughter but, surrounded by other users and with no idea of where to get help, she snaps under the stress.
These sound very simple scenarios but they embrace a whole range of complex influences and issues while at the same time having plots and characters which the target audiences will recognize and with which many can identify.
They are staged in an extremely simple but effective setting by Sophie Jump. Three frames form a doorframe and support for two panels with bricks walls and a window depicted on them. From the doorframe extends a circle of grey rope, an effective way of marking out a performance space when staged in a hostel or day centre, where there will not be the stage and lighting available for the performance I saw, one of four showcase performances which were open to the public.
Four actors - Ian S Kalman, Johanna Allitt. Jennifer Lewin and Andre Skeete - show great versatility playing all the characters, slipping behind the scenic panels to done a different jacket or collect a prop to appear as someone quite different from the person they were before. As well as volunteer Emma, Lewin crosses gender as the finger flicking street-wise Switchy, pulled around by an imaginary pit bull on the end of a stretched out chain - a nice point that it is not just big bullies who can exert control. Keete is splendid as Da Vinci, with just a hint of a gay tinge to his eagerness to follow Switchy with Kalman and Allitt as the parents who have no time for his enthusiasms. Allitt is a teacher too in the same piece.
In Eve's story Allitt captures her vulnerability and confusion as well as the aggression, Kalman the 'friend' encouraging her back on drugs and Lewin and Skeete her daughter and son-in-law. Skeete is a hostel staffer in Emma's story, Allitt another official and Kalman a Polish man who's difficult to deal with and the all take on other roles as well.
In addition there is Terry O'Leary sometimes joining in the action but mainly being what Cardboard's Forum Theatre calls a 'Jester' introducing the performance, chatting to the audience and skillfully handling what is really the most important part of the programme. After they have seen all three plays she invites the audience to think about their situations and whether there are any points where if it had been them in the same situation they would handle things differently. She invites the audience to vote on which of the three plays they would like to see again with the opportunity to change them with their own input.
Following a technique developed by Brazilian director Augusto Boal, one play, or parts of it are then rerun with members of the audience shouting out 'Stop!' when the want to change things. They then join the actors, taking over the central role. They can't control what the other characters do but the differences made by their intervention and different choices from those they have just seen the character make do, of course, meet appropriate responses from the other characters, sometimes perhaps not what the interventionist expects.
In effect those who came forward were being asked to perform a sophisticated piece of improvisation, which would intimidate members of many theatre audiences but at the performance I attended there was no shortage of willing contributors. That particular audience included a great many teenagers and young people, including some quite young kids in school parties. What surprised me was how well they did it with no embarrassment and little sign of nerves.
Leo's story had been chosen and among the contributions some attempts to argue with Switchy were thwarted, an older man, perhaps himself from a homeless hostel tried to get him to a youth club, an guy of student age expressed his horror at the killing of the dog and declared he needed to get counselling. Even when their contributions were not successful there was still a strong sense that they had made a positive contribution that they were pleased with. As O'Leary confirmed from experience in this work (Cardboard Citizens have been running forum theatre for ten years now) they are grasping the opportunity for their voice to be heard, the chance to express themselves and release their feelings about what may also be or have been their own situation. Nothing could demonstrate this more clearly than one young lad who chose to tackle the scene where Leo tries to tell his parents about his painting and the interest that has been shown in it. His 'you never listen to what I say' could not have been more heartfelt and spoke for generations of children whose families are too busy or are too stuck in their own rigid thinking to pay attention to what their offspring are trying to tell them.
I found this fascinating work and under Emma Bernard's direction these actors are giving performances they can be proud. At only about twenty minutes each these plays have had much more content .and much more purpose than many of the fifty-minute pieces that are presented to paying audiences on the fringe these days. It is good theatre, quite apart from its value in relation to the other purposes for which it is being performed.
Ended at Toynbee Studios but still touring hostels. You can find out more about Carboard Citizens on www.cardboardcitizens.co.uk
Reviewer: Howard Loxton