Legal Fictions
A double-bill of The Dock Brief and Edwin by John Mortimer
Richmond Theatre and touring
(2007)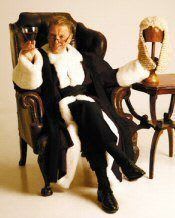 85-year-old John Mortimer, creator of the irascible Horace Rumple of the Old Bailey (so memorably played by Leo McKern in the television series), has had a long and highly successful career as playwright, novelist and barrister.
When Mortimer was a QC he established a formidable reputation in several celebrated civil cases involving censorship. These included defending Herbert Selby's novel, Last Exit to Brooklyn, Oz magazine, The Sex Pistols, and Gay News. The Oz trial – the longest obscenity trial in British legal history - featured Rupert Bear in compromising positions.
The Dock Brief, which had been successfully performed on radio and television, had its stage premiere at the Lyric, Hammersmith with Michel Hordern and Maurice Denham in 1958. Audiences and critics immediately recognised a major new talent: a playwright of wit, the funniest writer since Christopher Fry. The one-act play – a comic duologue between a man accused of murdering his wife and a barrister chosen to defend him - has been long overdue for revival.
The barrister, down-and-out, who hasn't had a case in fifty years, sees the man as a chance to make his name at long last. Together they rehearse the scene in the cell, which they are later to re-enact in court. The barrister is continually being carried away by ridiculous fantasies and his own rhetoric. The criminal enters into the improvisation, playing judge and witnesses, to please him. It is obvious that it is the barrister who is on trial. It is his life which depends on the jury's verdict.
The action is divided into two short scenes: before and after the trial. Mortimer has a neat twist. The murderer gets a reprieve, not because the barrister proved his innocence, but because the Home Office decided that the defence had been so appallingly incompetent, that it wouldn't have been fair to hang him.
The barrister all alone, thinking of all the things he might have said and should have said on behalf of his client, is a Dickensian figure of comic-pathos. Edward Fox is comic and pathetic but never quite comic and pathetic enough. His major flaw, which could so easily be rectified, is that he simply does not look seedy. His clothes should be shabby, his shirt and collar should be frayed and his hair should be uncombed. Fox is far too clean and spruce.
Nicholas Woodeson is perfect for the criminal who killed his wife because she was always laughing and telling jokes and calling him "old misery."
John Mortimer's father, a famous barrister and a master of rhetoric, was involved in some of the most salacious divorce case of his times. Edwin, a television play, broadcast in 1984 with Alec Guinness, Paul Rogers and Renee Asherson, has, as far as I know, never been seen on stage.
A retired High Court Judge sits in his garden, brooding; he has a nagging feeling that his best friend "rogered" his wife and fathered his son. However, when the two men meet Edwin after many years absence, neither of them wishes to acknowledge his parenthood. The comedy moves to a predictable, almost Wildean close, in which the wife tells them that the gardener was the father.
The Judge speaks in the language of the High Court and Fox, in a role which suits his style and manner perfectly, relishes the judicial wit and parody of legal phraseology.
Edwin is a nice middle-class play for nice middle-class audiences and there is absolutely nothing wrong with that.
This production was also reviewed by Sheila Connor at Guildford and by Rivka Jacobson at the Savoy Theatre
Reviewer: Robert Tanitch