Legal Fictions
John Mortimer
Savoy Theatre
(2008)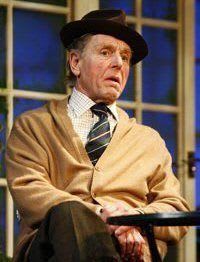 Mortimer's double bill of The Dock Brief and Edwin are out-of-court dramas. Murder and adultery, respectively, are the backdrop to fanciful and entertaining "legal" speculation.
The Dock Brief is set in a Crown Court's cell where Fowle, exquisitely performed by Nicholas Woodeson, admits to his newly assigned barrister Morgenhall, superlatively performed by James Fox, that he has murdered his wife. The motive is simple; she was too jolly for his liking and, worse still, she spurned an opportunity to run off with their lodger. Morgenhall admits that this is his first 'dock brief'. Judging by his age and years at the Bar, it is clear that years of learning left him in Chambers mastering crosswords puzzles. His excitement to be given a brief transcended all other considerations and therefore a plea of guilty will not do. He must grab this opportunity to leave his mark as a great advocate. He uses his time with his client to rehearse plausible and fanciful defences. Fowle goes along with his barrister's fantasies and together they generate an entertaining courtroom circus. Morgenhall's ultimate success is also his ultimate failure.
Fox's masterful embodiment of the tragic pathetic barrister is a parody of a lingering relic where the wig and gown beckon an upper class accent which sounds as if the speaker has to juggle a small hot potato to utter his thoughts. Yet there is something moving and touching in the old buffoon, who momentarily reveals a degree of realisation of his utter failure.
In the second part, Fox, playing Sir Fennimore Truscott, a retired High Court Judge, and Woodeson (his neighbour Tom) are sitting under the an old mulberry tree waiting for Edwin, a long absent, high-flyer in Global Computers. Margaret (Polly Adams) is all excited in anticipation of her son's arrival.
The two men's conversation centres on the absent guest, Edwin. The High Court Judge has serious doubts about a very important fact of life: he is not certain whether Edwin is his biological son. Tom showed great affection for Margaret, hence it is very probable that Edwin is actually Tom's offspring.
While in The Dock Brief it is clear from the outset who the guilty party was, here it is left to the end to reveal who in fact fathered Edwin. Margaret makes no apologies in revealing that neither Fennimore nor Tom is biologically related to Edwin. Both are relieved as Edwin is a great bore that neither wishes to claim.
Christopher Morahan's casting Fox and Woodeson makes these two plays, originally written for Radio, into an enjoyable entertaining drama. The design by Mark Baily of the cell in The Dock Brief and of the garden in Edwin provide a touch of realism in these legal fictions.
This production was reviewed by Rober Tanitch at Richmond and Sheila Connor at Guildford in the pre-West End tour.
Visit our sponsor 1st 4 London Theatre to book tickets for Legal Fictions.
Reviewer: Rivka Jacobson