Legally Blonde The Musical
Music & lyrics by Laurence O'Keefe & Nell Benjamin, book by Heather Hach
Curve
Curve, Leicester
–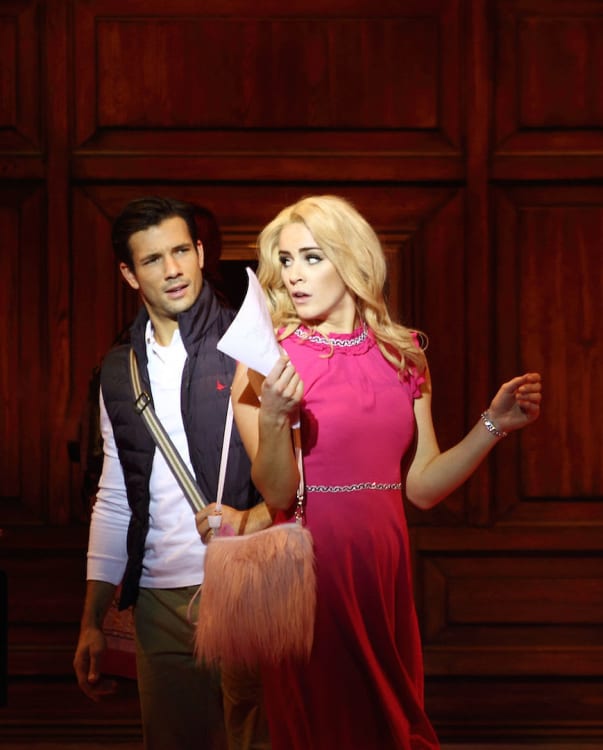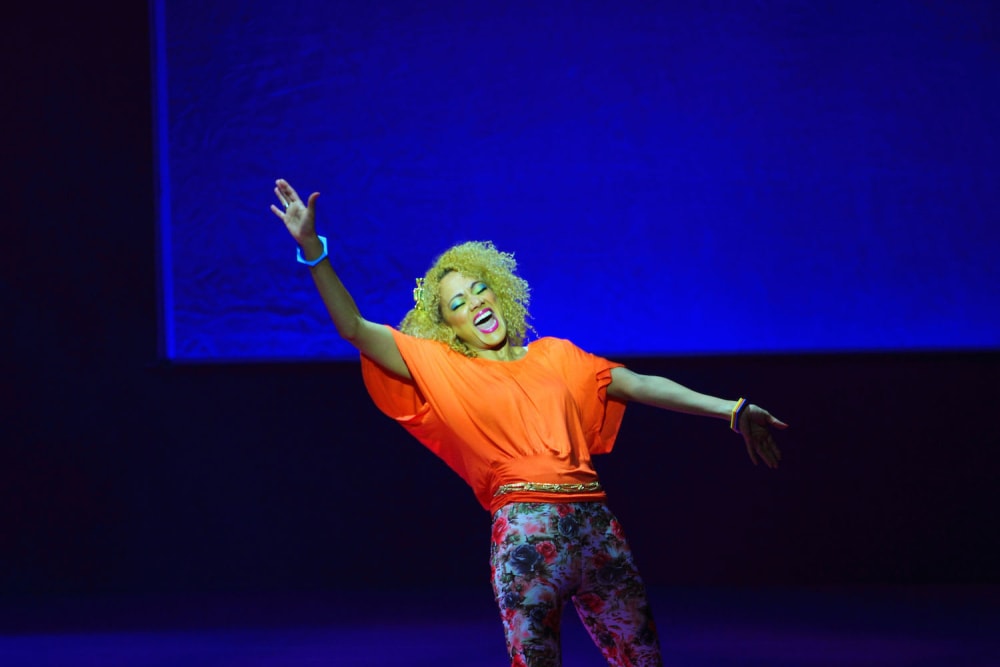 If you're looking for a considered and learned examination of the legal system, look away now. Nikolai Foster gives you Legally Blonde, The Musical, packed with more camp and candy floss than is surely legal.
There's no point sitting blustering about this story "not representing real life" and "that would never happen"; this show is well aware of that and sets its entertain-o-meter at reality-defying levels throughout. Verging on pantomime, maximum comedy is drawn from every scene, and who'd have thought there'd be a Greek chorus?
For those not familiar with the 2001 film starring Reese Witherspoon, the "plot" centres on Elle Woods, a UCLA fashion major who loves pink, her chihuahua Bruiser and her beau Warner whom she desperately wants to marry. Deeming Elle more "Marilyn than Jackie (O)", Warner dumps her, heads off to Harvard to study law and take his rightful place in the Ivy League.
Elle decides she'll go too and surprises everyone, especially Warner and his new girlfriend (a sensible, stern brunette, naturally), by passing the entrance exams to join Warner in law school. After a bad start, Elle befriends Paulette down at the salon, finds her way (and a nice man) and goes on to prove herself in the courtroom.
An 18-strong cast includes a few soap star baubles to brighten the stage. Elle is played by X Factor finalist Lucie Jones who captures the ditzy but not-so-dumb main role. Great voice but she seemed less sure with Nick Winston's busy choreography at times.
Tupele Dorgu gives Paulette a rougher edge than the movie role—no bad thing—and her rich, powerful voice is a treat. Jon Robyns nails the nice guy role of Emmett and is one of the few singers whose voice rises above the sometimes over-loud band. Curve's sound balance isn't quite right, making it difficult to hear the singers in the first act. Maybe the accents don't help but it's a shame, as the lyrics are clever.
Fitting in well with the suspension of realism, Matthew Wright's design is starkly brilliant: an open square framed by a neon light, vaguely reminiscent of a '90s disco. Effective and fun use is made of the stage trapdoor, minimal props and a projector screen, occasionally revealing musical director Bob Broad and his hard-working band behind it.
And who said never work with animals or awkward props (dancing with skipping ropes anyone!)? Bruiser is almost a scene-stealer with his little face poking out of Elle's bag and, after initial uncertainty, Rufus (Paulette's pooch) came good.
Laurence O'Keefe and Nell Benjamin received Tony award nominations in 2007 for their music and lyrics; there's a good variety of songs to keep things moving at a reasonable gallop, but nothing particularly memorable apart from "Omigod You Guys" and the outrageous, PC-defying "Gay or European".
Overall, though, it's all very empowering and probably best to overlook the show's sometimes questionable stereotypes and themes: feminists = lesbians, the use of the "bend and snap" move to bag your man, don't change to make someone like you but you can change your clothes, preferably to navy to be taken seriously.
However, it's all done in the best possible taste; this is a fun, fizz of a musical, full of "snaps", crackle and pop and you can't help but go along with all its fluff and nonsense.
Reviewer: Sally Jack