Legally Blonde
Heather Hach
UK Productions Ltd
New Victoria Theatre, Woking
–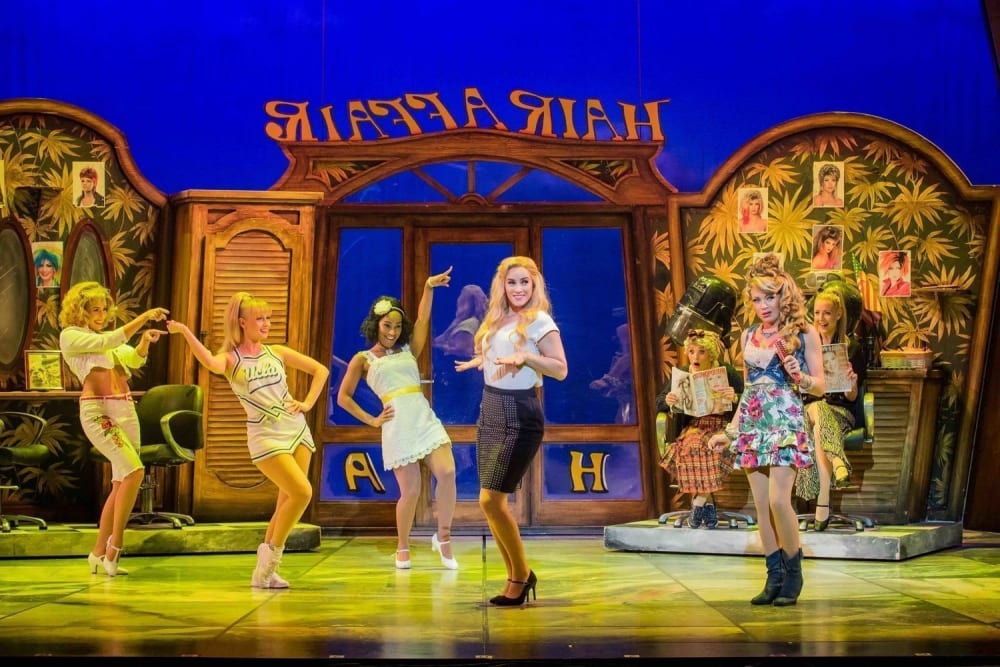 Legally Blonde is an iconic chick flick, frothy and silly but with clever enough humour to make it stand out. I was hoping to get this with the stage show but worried the production would fall more onto the naff side. How wrong I could be!
I expected to enjoy myself at Legally Blonde, but had no idea this would rate as one of the best shows I've seen this year. Following the 2001 film story, handsome Warner Van de Belt breaks up with sorority girl Elle Woods in order to be serious about his future. What does Elle do? Follow him to Harvard of course and study law.
There is a lot of pink in this high budget, high energy touring show. It's a delightfully big cast with oodles of costume changes (the rollerskating cupids are a particular highlight) and slick set changes. It also features two adorable dogs and watching Bruiser's paws skid across the stage had everyone in stitches.
Admittedly, the audience was mainly female, but they certainly got their target crowd laughing. This is a peppy, upbeat score, with moments of real wit. There are no stand-out songs (although "OMG you guys" has been on perpetual loop in my head) but Laurence O'Keefe and Nell Benjamin's catchy score never disappoints. I just wish there were more moments of real irony—"Keep it positive / as you slap her to the floor. Keep it positive / as you pull her hair and call her whore" is a favourite!
This is a musical which embraces the greatest stereotypes of the genre and is full of highkicks and cheesy grins, but does it with regular nods to the silliness of it all. Anthony Williams's staging is high octane and the glow-in-the-dark skipping routine has me genuinely bowled over at Helen Petrovna's abilities to maintain wonderful singing with double skips galore. Rachel Grundy also brings extra pizazz as the peppy cheerleader to every routine and can't help but pull focus in the choreography.
The wigs need replacing—poor Elle Woods has never been such an unattractive blonde. We can forgive the slightly tacky costumes as more of a nod to a particular teen genre. Rebecca Stenhouse (Elle's understudy) had taken over last night; she's got an excellent voice but feels less accomplished in the dance routines. She barely leaves the stage though and keeps us hooked throughout with her megawatt performance. David Barrett is charming as Emmet, the kind of guy everyone wishes they had in their life.
Bill Ward (Professor) swaggers with the air of Richard Gere's ultra slick and smarmy performance in Chicago. Former Eastenders actress Rita Simons makes her musical debut with this role and proves she can certainly sing. Laura Harrison (Vivienne, Warner's catty lawyer girlfriend) has an amazing vocal range—such a shame we only get to really hear her in the last few numbers. She's a star to hunt for in the future.
I can see why this musical In the UK alone won three Laurence Olivier Awards, including Best New Musical, and four WhatsonStage Awards. Legally Blonde is warm, funny and you will come away fizzing with energy.
Reviewer: Louise Lewis