Legally Blonde – the Musical
Music & lyrics by Laurence O'Keefe and Nell Benjamin; book by Heather Hach
The Lyceum, Sheffield
–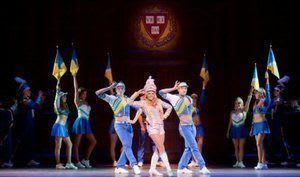 Sheffield Theatres are to be congratulated on being the first post-London venue to receive this tour, which is pretty well a sell out for the 10 days of its run. The mainly female audience, no doubt attracted by cast members who were successful on the X-factor, received it enthusiastically.
The programme for the tour is worth looking at: informative about the language and customs of American Universities; full of interesting quotations about (blonde) women in different contexts; and includes an enthusiastic response from Miranda Hart 'I am not ashamed to admit that I love all things light entertainment'.
The story line would not be out of place in a teenage girlie magazine. It is cliché ridden and outdated and has as much emotional depth as a peanut butter sandwich. But it provides a coat hanger for an extremely professional production.
Gorgeous blonde, Elle Woods, is disappointed when her boyfriend, Emmett Forrest throws her over in the hope of finding a more serious and suitable mate at Harvard Law School. She pursues him there, becomes a successful lawyer herself, and eventually throws him over for a much nicer guy. Her progress is charted by the clothes she wears: from pink everything to sober colours and back to pink again.
Much credit must be given to Amy Ross, who came in as an understudy for the female lead in the performance I saw. She looked stunning, sang and danced with assurance, and looked as if she'd been playing the part for ever.
Also impressive performances by Niki Evans as Paulette (wonderful rich voice); Iwan Lewis and Ray Quinn as the two boyfriends; and in smaller roles, Charlotte Harwood as the bitchy rival, Rhona McGregor, accomplished in a variety of roles, and Lewis Griffiths as the handsome hulk, who completely wowed the audience with his silly walk and huge package.
I am not sure how to pick up from the programme the actor responsible for the overtly camp performance of the receptionist at the hair salon. This was such a throwback to Kenneth Williams in the 'Carry On' films or John Inman in 'Are You Being Served'. Though funny, I'm not sure it was helpful in moving people on from stereotypes of gay behaviour. But hey, it's a musical comedy. Anything goes!
Terrific sets by David Rockwell, (especially the courtroom scene) which slid effortlessly into place. Also a huge range of costume designs and interesting accessories from Gregg Barnes, and some very slick costume changes.
I was on the whole, unenthused by the music, except for Niki Evans's lovely performance of "Ireland". The female chorus was unpleasantly strident and possibly over-miked for the relatively small theatre. The choreography was always energetic, and absolutely brilliant in the second act opening, "Whipped into Shape" when the whole ensemble immaculately performed the demanding keep fit routine.
For people expecting to book for this show as it does its tour, I would say that the superlatives it received during the London run surprise me. But I am not Miranda Hart, and prefer a musical that has meat on the bone. I have raised the gay issues, but more to the point is the presentation of a blonde bimbo (sometimes called a Marilyn) who rises above everything to become a super fantastic lawyer, gets the man and lives happily ever after. I can sometimes go with that scenario but not in this case.
Reviewer: Velda Harris