Legally Blonde
Music & lyrics by Laurence O'Keefe & Nell Benjamin, book by Heather Hach, based on the novel by Amanda Brown & the MGM movie
Ovation
Upstairs at the Gatehouse
–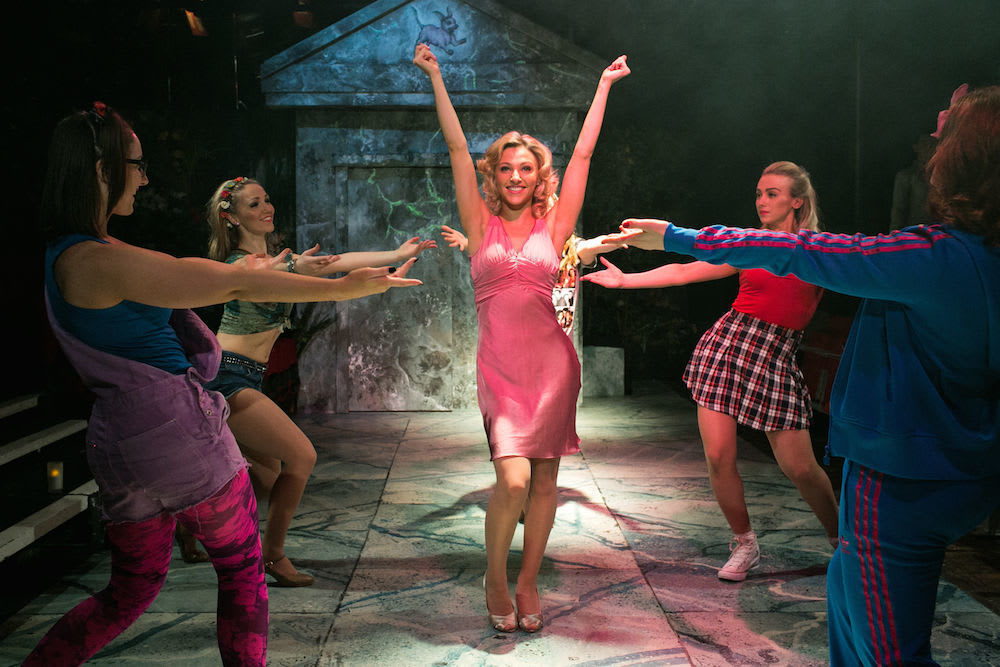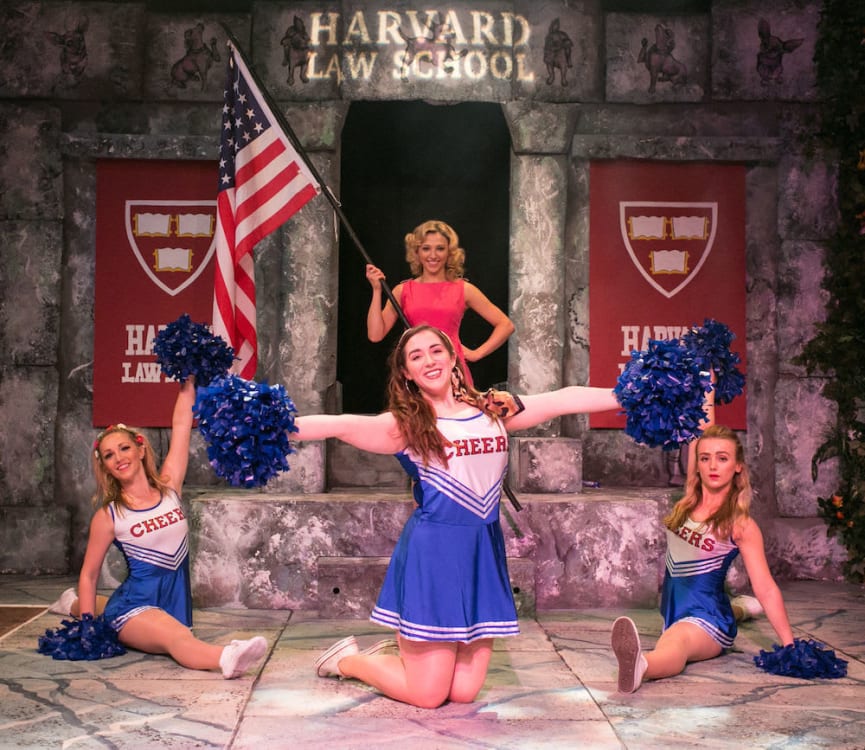 This musical about a bimbo who turns out to be bright won the Best Musical Olivier in the West End despite seeming remarkably silly. Elle Woods and her sorority sisters at UCLA are celebrating her coming engagement and choosing the right dress in which to accept the ring when things go wrong. Boyfriend Warner Huntingdon III dumps her.
He's off to Harvard to become a lawyer. She may have money but a Malibu Barbie doll majoring in Fashion Merchandising, more interested in her nails and her chihuahua than anything serious, isn't the right partner for what he plans. He needs "Less of a Marilyn, more of a Jackie."
So she takes off for Harvard too, enrols in the Law School (presumably helped by daddy's money) and, against all odds, wins both a case and her man; but a different, much nicer one.
Screeching cheerleaders with impenetrable accents have always filled me with horror and that's what these sorority girls are like but in a way that underlines this show's point. You can treat it as effervescent escapism or see it, if not as satire, at least as a send-up of American mores.
The numbers are varied and lively and form most of the action—there isn't much spoken dialogue. The band's great, but loud, and with singers turned up too high in an effort to top them, making some of the clever lyrics and their riot of rhymes incomprehensible.
That's a pity but you can still follow the story and choreographer Anthony Whiteman's energetic dance routines carry it stunningly forward. Among choreographic treats are an intricate but meticulously timed skipping dance and an Irish reel that hilariously sends up Riverdance.
Director John Plews isn't afraid to go OTT: delightfully non PC "Gay or European" about the sexual orientation of a court case witness is wildly camped up; elsewhere a handsome young delivery man in shorts struts in to announce "I've got a package."
The staging is in traverse. Isabel Power Smith's scenic units at either end of it look more like country-house follies than Ivy League universities but Chihuahuas on their metopes make their own comment and her design keeps things moving. Department store shopping scenes are instantly created with just rolling racks of clothes—and camp shop assistants competing for customers.
Abbie Chambers is at the centre of things as Ellie Woods, giving a strong performance that makes it very had to believe this is really her professional debut. She a convincing airhead who then starts to use her noddle when she teams up with Ross Barnes's Emmett Forrest, a fellow law student on whom she has a liberating effect. He's from a less privileged background, with a chip on his shoulder, as one number puts it. In them, laid-back West Coast hedonism meets hard-working East Coast and love blossoms.
Jodie Jacobs scores strongly as beautician Paulette Buonafonté, whose choice of men has proved faulty until that delivery man (Chris Durtnal) turns up. They're a subsidiary love story.
There are strong female performances from Lily de-la-Haye as a lesbian would-be lawyer, Emma Ingram as Warner's new love, Aimee Barrett as an exercise guru accused of murder and Suzie Aries has a cameo as the court's judge. They all double as sorority sisters who reappear (as Abbie imagines them) as a personal supporting chorus.
Robert Colvin plays Warner, Ellie's rotter of a first love, Hugh Osborne doubles her doting dad and her predatory law professor while dance captain Adam Crossley preens outrageously as a gay pool boy.
It is a hard-working company delivering lots of energy so it's fizzing with fun. Don't take it seriously. Have you noticed its Christmastime? This production of Legally Blonde has the spirit of a pantomime fairytale: don't take it seriously; it's there to enjoy.
Reviewer: Howard Loxton