Legally Blonde
Music & lyrics by Laurence O'Keefe and Nell Benjamin; book by Heather Hach
Opera House, Manchester, and touring
–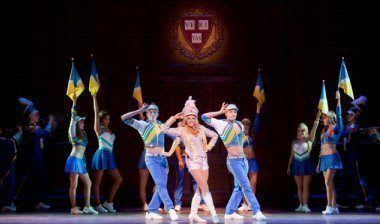 Anyone viewing the posters outside Manchester's Opera House of late could be forgiven for mistaking it for a cinema, as Sister Act moves out to make way for this week's main feature Legally Blonde.
Elle Woods and Warner Huntington the Third are seen as the perfect couple at UCLA—she the pretty, blonde cheerleader, he the good looking guy about to go to Harvard Law School, both with very rich parents—until Warner takes her out to dinner and, when she thinks he is about to propose, dumps her as he believes that if he is to be a senator by he is 30 he will need someone more "serious" on his arm.
Elle follows Warner to Harvard and manages to get in, and they are taught by the intimidating but successful lawyer Professor Callahan who will guarantee four places on his legal team to the most promising "sharks" in his class. Warner starts dating ambitious and vindictive Vivienne, and classmate Emmett helps Elle to put aside her obsessions with clothes, boys and all things pink to actually study law.
The big showdown comes when Elle is one of the chosen ones on Callahan's team to defend queen of the fitness videos Brooke Wyndham accused of murdering her ageing husband, but it seems that none of the high class lawyers knows how to communicate with a client whose life and career is based on how you look...
It's all pretty predictable and unlikely, but whereas the songs aren't as sophisticated as those in Sister Act, unlike that other show the book is written by someone who really knows how to plot a story without a great deal of depth to great effect. Having said that, the songs are still pretty good, with music of the style of a lot of modern musicals for young people and lyrics that play effectively with rhythms of conversation and are often quite witty. The song "There! Right There!" asks the question "gay or European?" of a witness in the dock as, to them, his behaviour could mean either, which gets plenty of laughs, but then this is a show about bending stereotypes.
Elle is someone whose ambition stretches little further than looking good and getting married until she starts to look beyond this and finds that she is capable of much more and that the boys she is looking at have nothing worth exploring beneath the surface. The key to it really is when Emmett observes that Elle's IQ seems to drop to forty every time Warner walks in the room, proving that the "dumb blonde" act really is just that, an act. In that sense it's an old-fashioned moral tale, and one that seemed to appeal to a lot of the teenage girls in the audience.
Faye Brooks does a pretty decent job of stepping into the fashionable shoes of Elle Woods with a central performance that really brings the show together. Iwan Lewis is sweet as Emmett (I wonder if those two will end up getting together...?), Neil Toon is suitably arrogant as Warner and Charlotte Harwood similarly arrogant as Vivienne, with a strong performance from Claire Sweeney as hairdresser and Elle's confidante Paulette and a real star turn from Dave Willetts as Professor Callahan. A mention has to be made of Lewis Griffiths for his gloriously-over-the-top macho UPS delivery boy Kyle.
Although the early scenes do have the problem of a lot of screen-to-stage adaptations of having lots of very short scenes whizzing by before giving the audience chance to follow what is happening, it soon settles down into a very good translation of a teen comedy film into a polished teen comedy musical which will certainly appeal to a young, female audience but there is plenty of fun to be had here for all the family.
"Legally Blonde" runs until 29th October
Iain James Finlayson reviewed this production at the Regent Theatre, Stoke
Reviewer: David Chadderton