The Lemon Princess
Rachael McGill
West Yorkshire Playhouse, Leeds
(2005)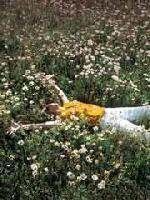 The Lemon Princess, based on an original idea by director Ruth Carney, first saw the light of day as a rehearsed reading in 2002. Three years later it returns to the WYP in fully staged form, a striking addition to the flourishing genre of overtly political plays. Loosely based on the story of Stephen Forber, whose daughter Rachel died of nvCJD (the human form of "Mad Cow Disease") in 2001, the play deals with one of the many human tragedies caused by the government's decision to protect the British beef industry at the expense of public health.
Seventeen year old Becky Clayton (Elaine Glover) and her widowed dad Mike (Ian Reddington) are more like best mates than father and daughter. Mike is an amateur comedian who performs on the Leeds pub circuit, Becky joins in with the act and is a talented singer in her own right. Suddenly Becky is afflicted with memory loss, mood swings and creeping paralysis, the first signs of what will eventually be recognised as nvCJD. In a desperate attempt to find a cure Mike turns to British scientist Dr Alan Andrews, but after Andrews' government funding is mysteriously cut off he takes Becky to the USA to undergo a pioneering form of treatment devised by Professor Jack Liebermann (both boffins are played by Nigel Hastings). The play's title refers to Mike's nickname for Becky, whose skin turns yellow as a side-effect of her medication. Mike is helped by his sister-in-law Karen (Lesley Vickerage, who also plays journalist Katie Conway). Becky's condition shows a short-lived improvement but eventually it becomes obvious to everyone - except Mike - that her illness is terminal. Only five years after her mother died of cancer Becky becomes the first person in Britain to die of nvCJD.
Faced with the unenviable task of communicating a great deal of complex medical evidence, McGill has chosen to make the Clayton family step out of character and into the spotlight. At strategic moments, armed with clipboards and speaking directly to the audience, they relate the sordid facts about the cover-up unearthed by the official inquiry. This necessitates some impressively quick changes of both mood and costume - particularly on the part of Samantha Robinson, who doubles the roles of Mike's nine year old daughter Charlie and scientist Dr Caroline Harding - but it's a clumsy device.
The Lemon Princess certainly fulfils one of the principal aims of political theatre, which is to ensure that the audience leaves the theatre boiling with rage (I don't know what John Selwyn Gummer is doing now but he'd better be careful over the next couple of weeks). The play also avoids the notorious agitprop pitfall of dividing the characters into saints and sinners - Mike's Manningesque comedy act alone will be enough to alienate many playgoers, and his determination to prolong his brain-damaged daughter's wretched existence smacks more of pig-headedness than parental devotion. But despite some sharp writing and excellent performances from the entire cast the play doesn't quite succeed in uniting the personal and political.
At the West Yorkshire Playhouse until 5 March
Reviewer: J. D. Atkinson