Lemons Lemons Lemons Lemons Lemons
Sam Steiner
First Floor Presents
Barons Court Theatre
–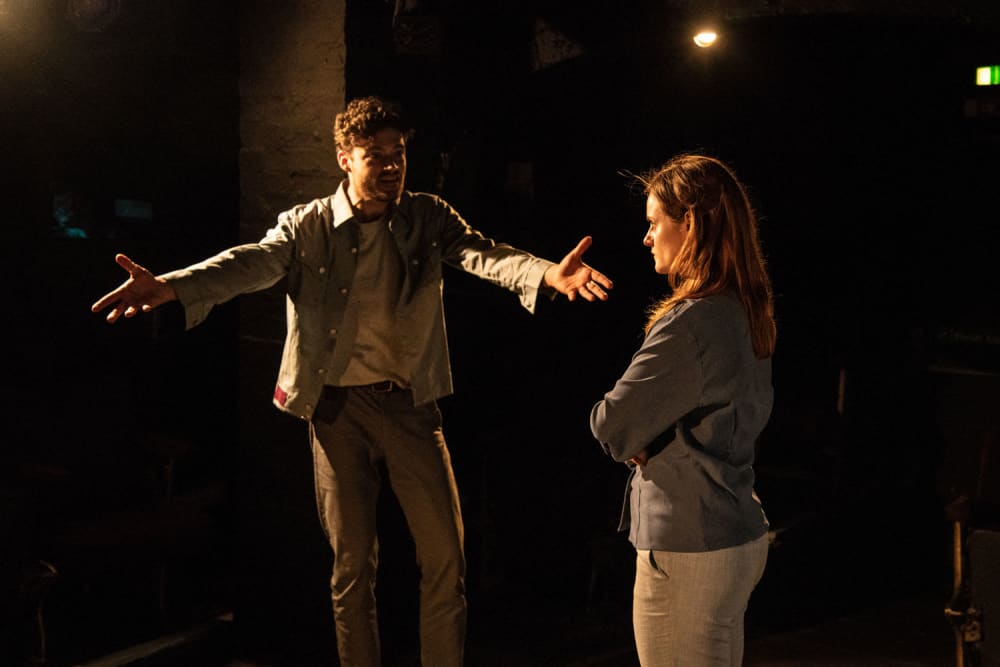 The most intriguing elements of Sam Steiner's dystopian two character play, first performed in 2015, come from its wordplay more than from its central relationship.
For unknown reasons, the government has implemented a "hush law" restricting citizens to 140 words a day. Lemons explores what that does to a couple's relationship.
The action flits, confusingly at first, between the couple's early courtship and the post-hush-law world, where they have to ration their language, often berating each other for having used too many words at work before they meet in the evening. Awkward physical mimes form the scene transitions and frequently seem to represent misunderstanding and failed connection. Coloured lights indicate, gameshow style, when a character's word count is up.
The couple are a shouty activist musician (a charismatic Charlie Suff) and an uptight family lawyer (co-producer Jemima Murphy). The characters are fairly insufferable: the musician sanctimonious about the social injustices of the new law as, he says, it will hurt the working classes more; the lawyer stiff and uptight. It is difficult to see why they would have connected romantically in the first place, but there is some irony to be found in that their pre-hush-law interactions, although windier, feel in some ways more stilted than after the word restriction is imposed.
The writing abounds in wordplay and repetition, the draconian law used as a backdrop for various absurd situations: a Madness song that they have to stop singing when out of words; a word association game; a stilted conversation about the working day.
Potential allegorical readings abound—the usual suspects of Trump, Twitter, austerity—but the real focus seems to be on how language is deployed or not deployed in a relationship, whether or not as a weapon and whether emotionally precise or imprecise. It's a shame that the relationship in question feels so implausibly thin and the scenes so brief they have little room to breathe, almost as if the play itself were subject to a hush law.
Reviewer: Tim Fox