Lemons Lemons Lemons Lemons Lemons
Sam Steiner
Harold Pinter Theatre
–

Listing details and ticket info...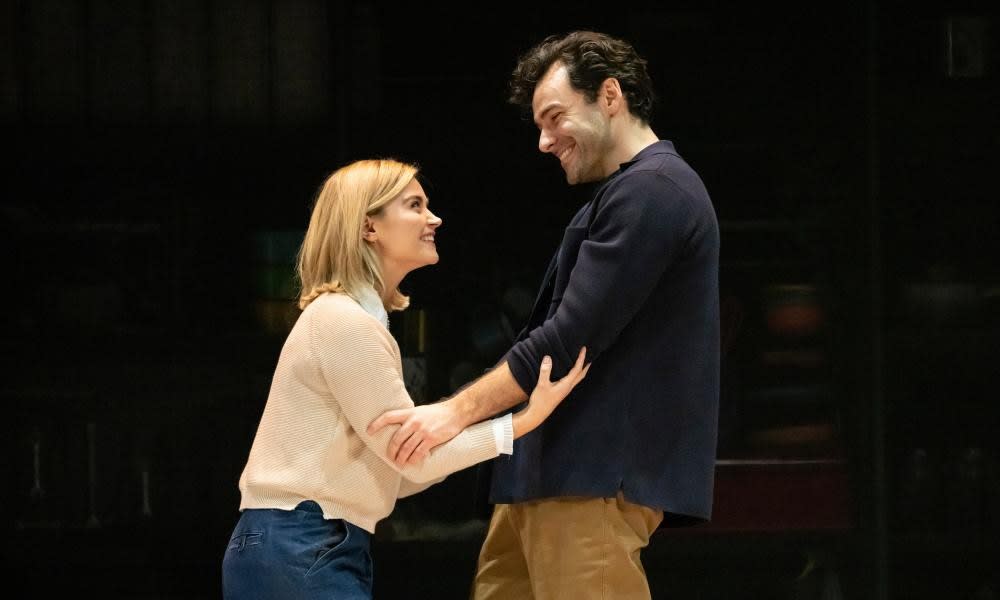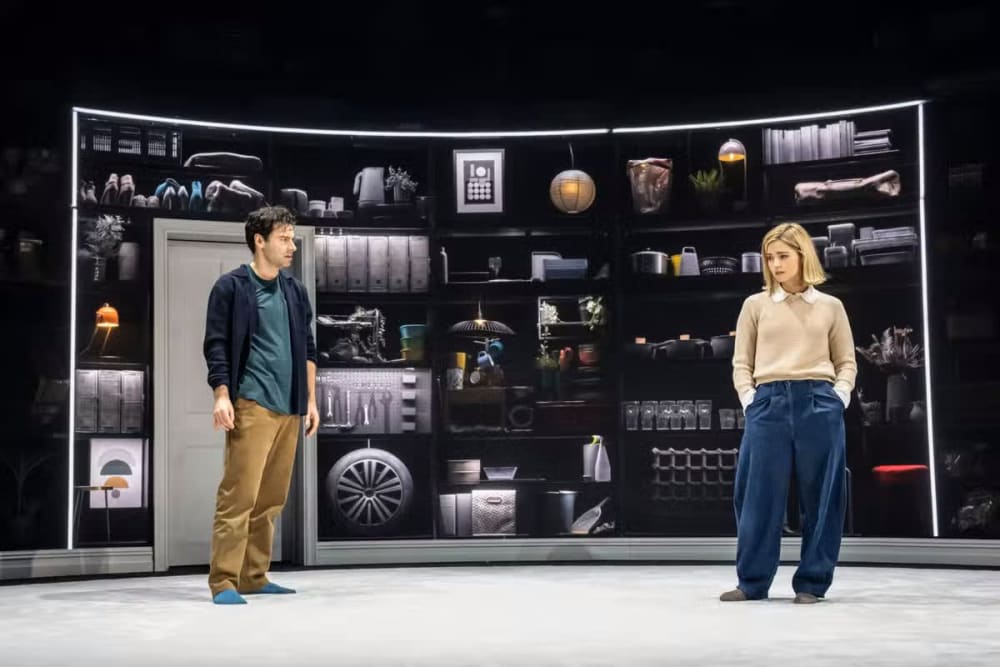 Lemon is a symbol of longevity, purification, love and friendship. Lemon is also a symbol of bitterness and disappointment. But five lemons in a row without a single comma sounds like somebody is swearing.
Sam Steiner's two-hander, originally performed at Warwick Arts Theatre and the Edinburgh Festival in 2015, when the author was 21, is now surprisingly in the West End.
The actors, Jenna Coleman (she of Doctor Who) and Aidan Turner (he of Poldark and The Suspect), make it commercially viable. They are engaging actors. They have chemistry and are well directed by Josie Rourke.
Steiner has an Orwellian theme. The government passes a new law, a Hush Law, which rations language and inroads on freedom of speech. Everybody is limited to only 140 words of speech a day and then they are incapable of saying anything more.
There are just two characters on a bare stage, no furniture, no props, no change of costume, just a huge backdrop of everyday items and a change of position and a change of lighting. The play lasts 95 minutes and is acted straight through without an interval.
The scenes are incredibly short, hardly sentences, just a few cryptic words. The couple shout out numbers which refer to the number of words they have left when they come home from the workplace.
The couple are a divorce lawyer and a songwriter in a 6-year romcom relationship. He's political. She's apolitical. The action goes backwards and forwards in time. The terse script must have been murder to learn.
The most dramatic moment is when the lawyer in an angry mood deliberately wastes the meagre amount of words, she has left by just throwing them away higgledy-piggledy without any meaning whatsoever.
The correct critical response to Steiner's cult and award-winning play would be 140 words, For many, however, just one word, Lemon, will be more than enough. There will, inevitably, be some unsuspecting theatregoers who will be Speechless.
Following its brief London run, Lemons Lemon Lemons Lemons Lemons can be seen in Birmingham and Brighton in March.
Reviewer: Robert Tanitch