The Leningrad Siege
José Sanchis Sinisterra, translated and adapted by Catalina Botello and Rod Wooden
Out of the Box in association with the Tron Theatre, Glasgow
Wilton's Music Hall, London (following a short UK tour)
(2006)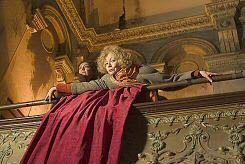 Valencian playwright José Sanchis Sinisterra is best known for his sly comedy Ay! Carmela, famously filmed by Carlos Saura, about a trio of Republican entertainers performing their cabaret turn, suitably amended, for Nationalist troops at the height of the Spanish Civil War.
With his second, gorgeously dotty play, a parable of progress written in the wake of the film's success, he again displays his fond affection for Spanish radical theatre folk: the writers and actors who bravely believed they could change the world for the better with their left-leaning, socially committed drama and co-operatives.
But the year is now 1990, consumerism flourishes, the red flags have been furled, the parade has moved on, while Valencia's crumbling, much-loved Phantom Playhouse, haunted by treasured memories, is threatened with the demolition ball to make way for a shoppers' car park.
Ah, but not quite. Two doughty ladies survive against all odds, having taken up residence in the playhouse to preserve its fabric against attack from mammon and the death-watch beetle. One is Natalia, the company's former leading actress, the other Priscilla, widow of a spotty but handsome chap, the committed Communist impresario who once staged his challenging repertoire in the face of censorship while enjoying intimate relations with both women.
Now these sole survivors are reduced to polishing and dusting duties, forever changing the filing arrangements for the playbills, posters, press reviews and prompt copies, while doggedly searching among the Playhouse archives for that long-lost script of The Leningrad Siege, an anonymous theatrical tribute to their Russian comrades, much rehearsed, even designed and fully costumed, but never performed before a paying audience.
This may seem unpromising material for a great night out. But by one of those marvellous miracles of live theatre, the production brings together two of our most gifted if unsung actresses, giving portrayals of subtlety, wit and a blissful inconsequentiality that wholly delights.
RSC star Deirdra Morris plays Natalia, at first an unprepossessing figure in charwoman's overalls and headscarf, but who in the course of two hours transforms herself into an ever younger, ever more beautiful creature, preening herself in the Act One gown she wore long ago as Lorca's Doña Rosita, or donning the uniform of a Red Army guard, creating an unexpectedly chic effect. But as an absent-minded creature, constantly wrong-footed by chance remarks, her stage presence is electrifying and her solo pieces offer deft, telling asides to an unseen audience.
Equally eye-catching is West End veteran Rosemary McHale as the widowed Priscilla, also at first a dumpy figure with polishing pads on her boots, but whose life is suddenly transformed by the offstage attentions of a suitor. This gives rise to a brilliant solo turn, perhaps inspired by Congreve's Lady Wishfort, as she tries out the many ways of embracing or repelling his advances, an astonishing comedy tour de force. Like Natalia she also gains glamour as, dressed in becoming black lace, she sets about dousing the theatre in petrol in preparation for a bonfire, before the pair finally settle over a reading of the elusive playscript.
Staging is by director Mark Rosenblatt who last year demonstrated a rare skill with translated drama at the Arcola with his award-winning Last Waltz season of Austrian plays. It is possible that here he simply stood aside and let these two brilliant actresses transmute the text into a high-class comedy double act. But his clever deployment of the theatre setting (Ben Stones), lighting (a huge contribution by David Holmes) and music, not to mention sound effects, contribute tellingly to the overall impact of the piece.
The play was given a short UK tour in some less than suitable venues. But for this final London run there is powerful synergy between the play's theme and the crumbling theatrical dream house of Wilton's Music Hall, built in 1858 and now the oldest surviving grand music hall, just a few hundred yards from Tower Bridge, but more easily approached from Whitechapel.
If you are a theatre lover and can make the trip, whatever else you do, don't miss this Out of the Box production, a unique treat that ends its run on Saturday, 25th March.
Reviewer: John Thaxter