Lennon Through A Glass Onion
John Waters
Duet
Epstein Theatre, Liverpool
–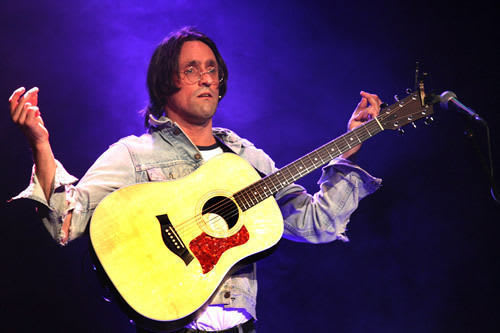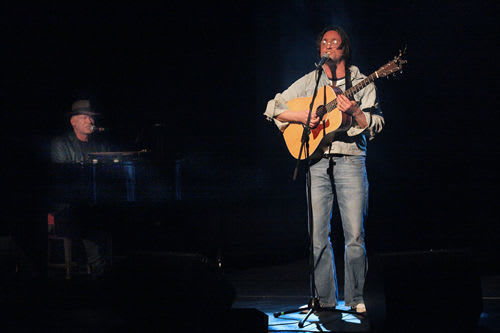 Lennon Through a Glass Onion. Now if that's not a title to moisten the old saliva glands then I don't know what is. Certainly the promise of peeling back the multi-layered personality of a man of such renowned complexity intrigues and teases in equal measures. So far so good.
This latest in a long line of Lennon shows is a bold fusion of script and music—a sort of musical monologue. Thus this show is much more than your standard tribute act—there's more than a hint of psychotherapy here, unburdening of the self, in front of an audience-cum-therapists.
Singing, talking and being John Lennon—genius, soothsayer and wit—for two whole hours must be quite a challenge for any actor—a task that could well rank this role as the Hamlet of its genre. But the moment Daniel Taylor swaggers onto stage an audience can rest assured.
Taylor's Lennon is a rather beguiling mix of innocence and worldliness. Not only is there a physical resemblance, but even his stance at the microphone is just right, all cocky vulnerability.
Aided and abetted by Stewart D'Arrietta's funky blues piano, backing vocals and bass drum throughout, the musical side of this show is nothing short of triumphant. Lennon unplugged? Think of this show as more Lennon debugged.
Indeed, it's the vocals that really lift this show onto another level. On songs such as "How Do You Sleep" and others, the vocal delivery is eerily good, beyond mimicry. Close your eyes and you really could be in the presence of the great man himself and for a brief moment in time those famously brittle tones are gloriously resurrected.
Presenting excerpts while playing only a few songs in their entirety is a smart move on behalf of the producers. Not only does this allow script and music to coalesce, but just as importantly it ensures the pace of this show never drops. Musings lead to music and vice versa. It all starts to feel seamless, a stream of consciousness.
For the most part, John Waters's script manages to capture the sheer pathos of the man. This Lennon is by degrees confused, bored, laconic and at times abrupt. Although the humour doesn't always come off, as the show finds its legs audience appreciation increases.
Even if it were just a musical tribute Lennon Through A Glass Onion would have more than enough to recommend it. Incorporating the confessional monologue into the show enhances and also elucidates the music.
Snatches of numbers such as "Help", "Norwegian Wood", "Jealous Guy" are integrated pretty effortlessly into the unfolding monologue, going on just long enough to whet the appetite. Far from feeling overstuffed—often a side-effect of tribute acts—this show might just leave an audience wanting more.
Whether this show actually produces any new insights into the man himself however is open to debate. What it most certainly does do is remind one and all of the genius who was John Lennon. Who could ask for more?
Reviewer: David Sedgwick