Leonore 40/45
Rolf Liebermann, Libretto by Heinrich Strobel
Theater Bonn
Theater Bonn, Bonn, Germany
–

Listing details and ticket info...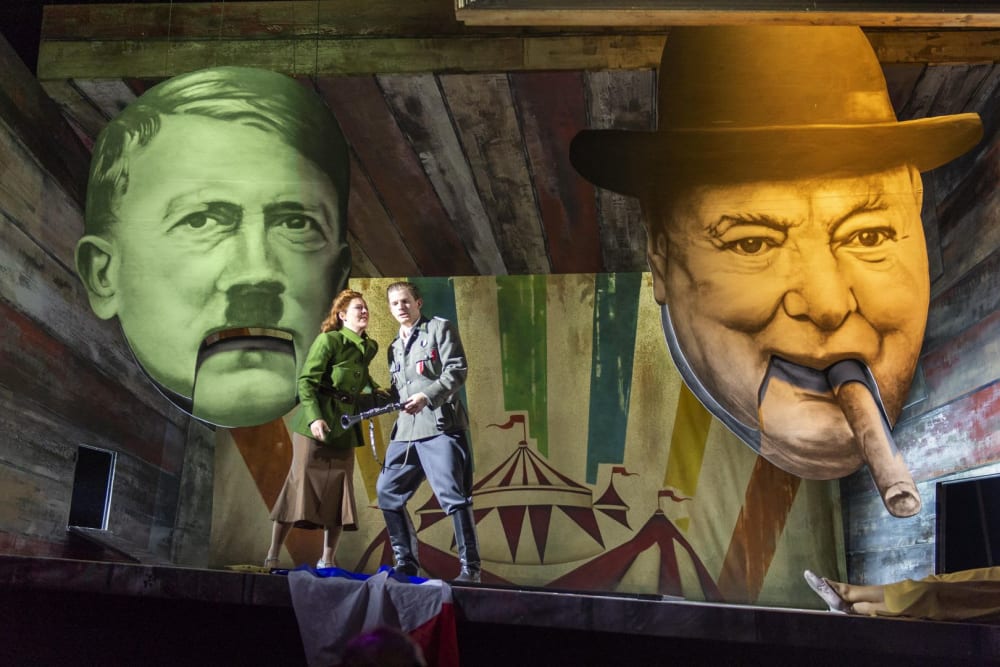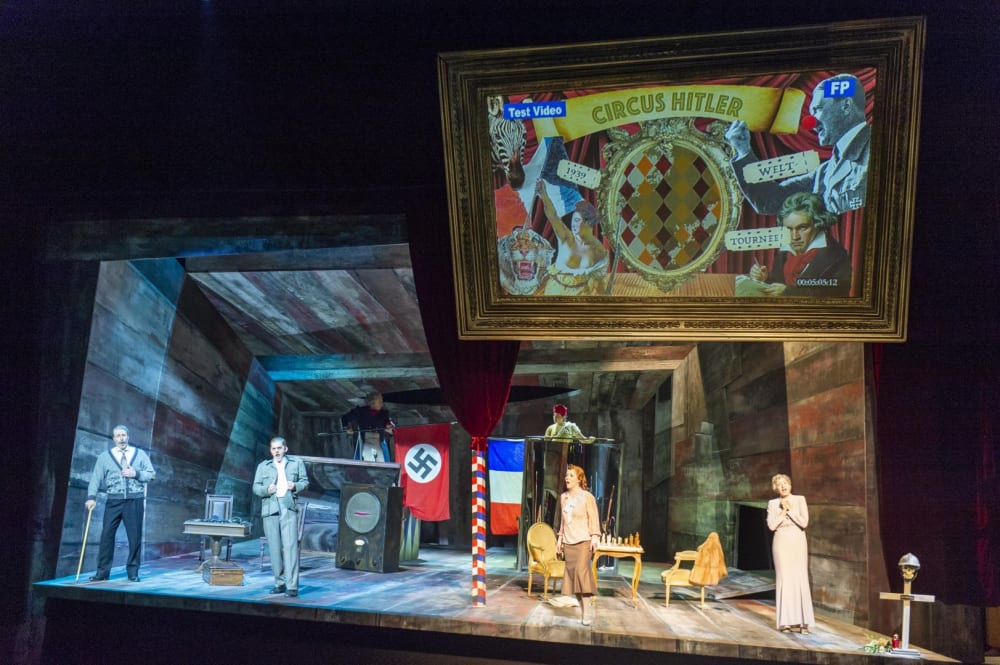 Part of Theater Bonn's Focus '33 programme is to revive forgotten works from the first half of the 20th century. Swiss composer Rolf Liebermann's Leonore 40/45, a semi-serious opera, which premièred in neutral Basel in 1952, has not been seen for sixty years.
The subject matter had proved to be too sensitive for German audiences in the 1950s. The opera's rarity is its major interest.
The story is set during World War 2. Yvette (Barbara Senator), a French-Czech pianist, falls in love with Albert (Santiago Sánchez), an occupying German soldier and clarinettist.
Jürgen R Weber's production, conducted by Daniel Johannes Mayr, sung in German and French, was recorded at Theater Bonn in October 2022.
Weber directs an expressionistic circus performance on a tiny skew-whiff stage. The curtain opens and closes between the short Brecht-like scenes. Emile (Joachim Goltz), an Emcee, is in attendance and he also acts as guardian angel to the lovers. The satire and the staging feel very German and cabaretish.
Yvette and Albert are reunited when the war is over and they marry, despite marriages between enemies being absolutely verboten. The "love is stronger than hate" happy ending feels tacky and completely false.
Liberated France took a brutal revenge on the French women who had collaborated with the Germans. They shaved their heads in the street and, humiliatingly, paraded them to a jeering public. The great French actress Arletty (star of Les Enfants du Paradis) was imprisoned for her wartime liaison with a high-ranking German Luftwaffe officer.
The opera is anti-war. We are all human, it says, and asks, When will humanity be without a war? On stage a grinning skull with a German helmet and a poster (WHAT DID YOU DO IN THE WAR? I DIED) stand out. One of the most devastating images is on film: an ariel view of a bombed and utterly destroyed Dresden.
Rolf Lieberman (1910–1989), the former director of Paris Opera, was active in bringing opera nations together as the first President of FEDORA, the European Circle of Philanthropists of Opera and Ballet.
Leonore 40/45 can be watched free on the OperaVision channel.
Reviewer: Robert Tanitch