Les Misérables
Book by Alain Boublil, book and music by Claude-Michel Schőnberg, lyrics by Herbert Kretzmer, based on the novel by Victor Hugo
Cameron Mackintosh
Leeds Grand Theatre
–

Listing details and ticket info...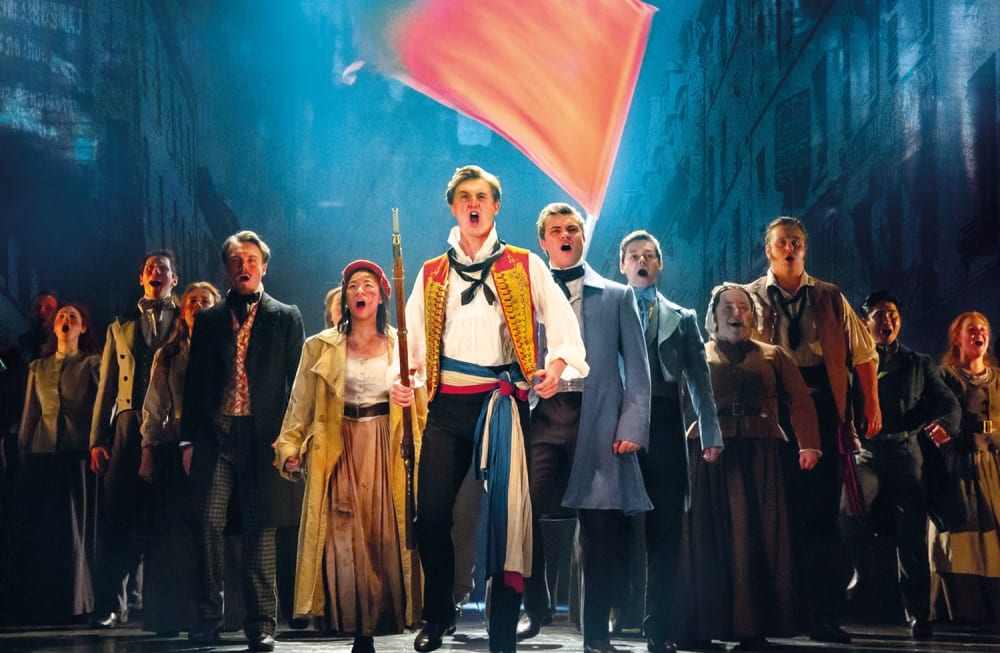 When the English-language version of Les Misérables made its West End debut in 1985, the critics immediately began sharpening their knives. For Francis King, writing in The Sunday Telegraph, the musical was a "lurid Victorian melodrama produced with Victorian lavishness". Other commentators complained that Alain Boublil and Claude-Michel Schőnberg—the creators of the original French production—had conspired with the lyricist Herbert Kretzmer to reduce Victor Hugo's great 19th-century novel into a piece of commercial fluff.
Despite the backlash, however, audiences flocked to Les Misérables. Moreover, its 37-year tenure in the West End makes it the UK's longest-running musical. One could speculate endlessly about why the show has been so warmly embraced by a British audience, but the simplest answer is that Les Misérables offers audiences a potent mixture of vividly drawn characters, engrossing storylines and memorable songs. I'd also add that the very "melodrama" and "lavishness" of the production, which King criticised, form a significant part of its broad appeal.
I won't attempt to synopsise all of Les Misérables, which begins in 1815 and ends soon after the Paris Uprising of 1832, but the main narrative thread concerns the toxic relationship between an ex-convict, Jean Valjean (Dean Chisnall), and an obsessive prison guard, Javert (Nic Greenshields). After being released from a 19-year sentence for stealing a loaf of bread, Valjean breaks his parole in order to start a new life. However, he is pursued relentlessly by the implacable Javert, and the two men cross paths at numerous points over the years.
Born in 1802, Victor Hugo witnessed first-hand the appalling living conditions of the French poor during the early 19th century, and his critique of the government is felt most forcefully in the figure of Fantine (Lauren Drew). Abandoned by her lover and with a child to raise, the character's inexorable decline—from sexually harassed factory worker to degraded prostitute—embodies the same exploitation and cruelty that would eventually inspire a group of young idealists to attempt an overthrow of the government at a street barricade.
I first watched Les Misérables in 1998 on a trip to London with my family, and I remember adoring the production. Over the last 24 years, however, I have managed to watch a lot of first-rate musical theatre, so I was unsure whether the show could stand up to such stiff competition. It was a pleasant surprise, therefore. to discover that Les Misérables remains a spectacularly entertaining piece of work, replete with hummable melodies and strikingly staged sequences.
This is not to say, however, that Les Misérables is without flaws. The show's emotional sincerity occasionally lapses into sentimentality, and some of its characters are less vibrant than others: Cosette, for example, is far more engaging as a child sweeping floors than as Valjean's adult ward. The musical's insistence on sung-through dialogue can also be grating at times.
However, these small faults are overridden by the show's many virtues. Les Misérables has become such a beloved part of popular culture that most of its songs now feel familiar. Highlights include the ballads "I Dreamed a Dream" and "On My Own", in which Fantine and Éponine (Jenna Innes) sing poignantly about their unrequited loves, and forceful group numbers such as "At the End of the Day" and "Do You Hear the People Sing?"
The ensemble cast is superb across the board. Dean Chisnall, who has played the role of Jean Valjean in other productions, is an outstanding leading man with a powerful and expressive voice. He is matched by Nic Greenshields's physically imposing Javert, whose rendition of "Stars" was utterly electrifying.
Lauren Drew excels as Fantine, expertly capturing the character's suffering, and Jenna Innes is heart-breaking as Éponine. The show's young lovers, Cosette and Marius, are a bit limp compared to the other characters—much like Joanna and Anthony in Sweeney Todd—but they are, nevertheless, skilfully performed by Rebecca Ferrin and Will Callan.
Les Misérables would be far less palatable without the comic interventions of Thénardier and his wife, who are brilliantly realised by Ian Hughes and Helen Walsh. Their rendition of "Master of the House" was a particular highlight.
Directors Laurence Connor and James Powell ensure that this touring production does not lose the dramatic impact of the West End production. Despite a reduced cast, the crowd scenes are suitably lively and boisterous. Matt Kinley's mobile set design evokes a strong sense of place and is beautifully accompanied by Paule Constable's moody lighting.
Despite my best efforts, I was completely swept up by Les Misérables, which batters you into submission with its size and spectacle.
Reviewer: James Ballands