Les Misérables
Alain Boublil and Clause-Michel Schönberg from the Victor Hugo novel
Cameron Mackintosh
The Lyric, Theatre Royal Plymouth
–

Listing details and ticket info...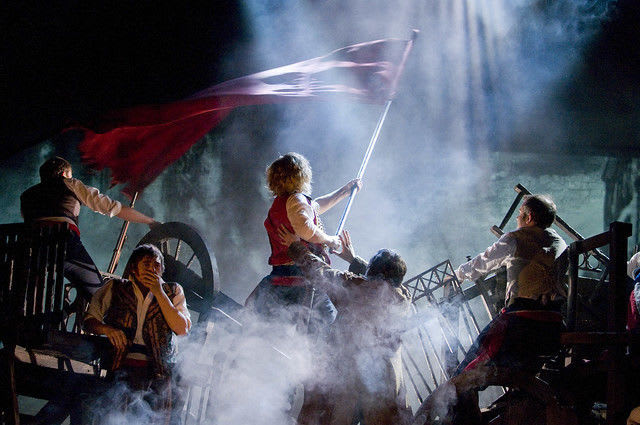 The epic Les Misérables, poet, painter and political activist Victor Hugo's seminal work, reworked by Cameron Mackintosh for the musical's 25th anniversary in 2009, is thrilling packed houses on an extensive tour extending into 2020.
Former RSC stalwarts Trevor Nunn and John Caird's adaption of Alain Boublil and Clause-Michel Schönberg's sweeping score and book is a triumph with Matt Kinley's set design (with projections realised by Fifty Nine Productions) and Paule Constable's lighting the true stars.
Towering, evocative sets slide seamlessly and unobtrusively into place revealing whore-strewn dockside, sewers and gangland tenements, tranquil garden, factory production line and explosive barricaded street.
Hugo's own artwork is used as backdrops as the morality tale unfolds with the Parisian bridge and Javert's fall from grace particularly memorable.
Killian Donnelly is a dignified Jean Valjean, imprisoned for 19 years for the crime of theft of a loaf of bread to feed his dying young nephew. Hellish gaol and extreme hardship has created a less honest creature, quick to retaliate and to seize the moment which leads to an eye for the main chance, an encounter with a benevolent man of god and being charged with doing good.
Much is rushed at the outset with chapters jammed into single verses, character development sacrificed and questions galore hanging (such as why is Javert in hot pursuit if the holy horde was donated not stolen and just why did JV break his parole?) but, in a leap forward in time (which is not so apparent without a programme to assist), we catch up with a wealthy factory-owning Mayor Valjean whose worthy works result in selfless guardianship of a child.
Donnelly's range is tried and tested by Schönberg's wide-ranging score from the bass notes of "Who Am I?" to the melodious highs of "Bring Him Home". His nemesis Inspector Javert (an impressive Nic Greenshields) contrasts beautifully with "Soliloquy" nicely timed and superbly executed.
Katie Hall is a believable Fantine, ostracised for birthing an illegitimate child and whose abasement—selling her necklace, golden locks and then her body—is documented savagely with the iconic "I Dreamed A Dream" on point save for a touch of sibilance while Tegan Bannister is a feisty but noble Eponine.
Harry Apps caught the attention as student and love interest Marius Pontmercy with the three-hander with Cosette (Bronwen Hanson) and Bannister "A Heart Full Of Love" poignant. The youngsters were also worthy of note with Cerys Singleton sweetly playing the young Cosette on press night while Jude Muir tugged the heartstrings as the streetwise prince of the slums Gavroche whose "Look Down" is a triumph.
The ensemble numbers are tight, evocative and visceral with "Red and Black" and "Do You Hear The People Sing" rousing and earwormy but Martin Ball and Sophie-Louise Dan's hilarious portrayal of the conniving publican couple was at times muffled although the choreography of "Master Of The House" more than made up for it.
But it is the social reality images that burn on the brain—hopeless heroics on homespun barricades, endless underground tunnels, dusky Parisian skyline and opportunist body snatchers—that are taken home, alongside a jolly tune or two.
Quite the political spectacle.
Check daily for returns.
Reviewer: Karen Bussell