Les Misérables
From Victor Hugo's novel; Trevor Nunn, John Caird and James Fenton, adapted from Alain Boublil and Clause-Michel Schönberg's French text
Cameron Mackintosh
The Lyric, Theatre Royal Plymouth
–

Listing details and ticket info...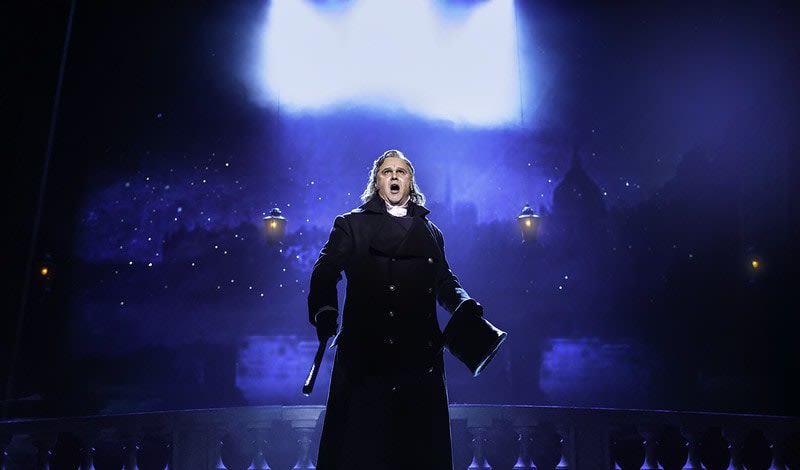 Poet, painter and political activist Victor Hugo's seminal work Les Misérables, reworked by Cameron Mackintosh for the musical's 25th anniversary in 2009, is back on tour prompting well-deserved whole-house standing ovations, many tears, laughter and sell-out auditoriums. Seen by over 120 million people worldwide in 52 countries and in 22 languages, Les Misérables is undisputedly one of the world's most popular musicals, having defied the early critics to become London's longest-running musical. It will relaunch its record-breaking tour of North America in October this year, a tour of The Netherlands is fixed for early 2023 and further dates and countries are yet to be announced.
As much as I am not a musical-lover, I have to admit that this piece gets better and better each time seen. It is beautifully constructed with James Fenton adding extra material this time round to former RSC stalwarts Trevor Nunn and John Caird's adaption of Alain Boublil and Claude-Michel Schönberg's sweeping score and book.
It still has its flaws—trying to cram whole chapters of Hugo's 14,000-word epic into a single verse leaves one reeling, character development sacrificed and questions abound (such as why is Javert in hot pursuit if the holy horde was donated not stolen?)—but if one can let that go and enjoy the moment, it is a whistle-stop tour of the social and political unrest in 1832 Paris.
The iconic anthems—"Red and Black" and "Do You Hear The People Sing"—are rousing and earwormy, while the hits keep coming with voices noteworthy and the orchestra kept under control by Ben Ferguson, but it is Matt Kinley's set design (with projections by Fifty Nine Productions) and Paule Constable's lighting that are the true stars.
Towering, evocative sets slide seamlessly and unobtrusively into place revealing whore-strewn dockside, sewers and gangland tenements, tranquil garden, factory production line and barricades. Hugo's own artwork is superbly used as backdrops as the morality tale unfolds, with the Parisian bridge and Javert's fall from grace particularly memorable.
Completely sung (although some rapid-fire scene and history setting sound almost rap-like) in nigh-on operatic passion, the somewhat intense tale of prisoner 24601's redemption is punctuated with bawdiness and downright hilarity. Ian Hughes's gangsta publican Thénardier is superbly slurky and conniving (and athletic) and, with Helen Walsh also returning as Madame Thénardier, provides much fun, slapstick and fabulous revoltingness to contrast the naivety of the ardent, revolting gentleman students (with Samuel Wyn-Morris in full fine throttle as Enjolras).
With Will Barratt confidently stepping into Dean Chisnall's shoes as Jen Valjean on press night, the strength in depth of CamMac's cast was tested and Barratt passed with flying tricolours with a very able command of Schönberg's wide-ranging score, from the bass notes of "Who Am I?" to the melodious highs of "Bring Him Home". Most believable—as is his nemesis Inspector Javert (an impressive returning Nic Greenshields exuding gravitas) with "Soliloquy" particularly suited to his rich baritone.
Debutants Will Callan and Paige Blankson as sweet lovers Marius and Cosette signpost a successful career ahead, with "A Heart Full Of Love" particularly poignant, while an unnamed street urchin Gavroche (one of six up on tour) is heart-wrenchingly commanding as the streetwise prince of the slums with "Look Down" on point. The ensemble are versatile and more than able populating the stage as chain gang, warders, police, whore, pimps, drinkers and much more.
But in a somewhat misogynist production, where women get few songs (or breaks), it is, for me, Fantine and Éponine whose voices stun: Rachelle Ann Go is waif-like and sweet as the abandoned mother of an illegitimate child, selling her locket, hair and ultimately her body to save her child. A beautiful rendition of the much-feted "I Dreamed A Dream", a sweet "Come To Me" and her short and painful life is swiftly over, while Nathania Ong is stand-out as the feisty, fearless and noble Éponine, full of integrity with "On My Own" moving and offering beautiful harmonies with Callan, Blankson and Barratt in "A Heart Full Of Love" and "In My Life".
As I have said before and remains the case, it is the social reality images that burn on the brain—hopeless heroics on homespun barricades, endless underground tunnels, dusky Parisian skyline and opportunist body snatchers—that are taken home, alongside a jolly tune or two.
Easy to see why it continues to thrill and sell-out. And that says quite something from a musicals curmudgeon.
Reviewer: Karen Bussell